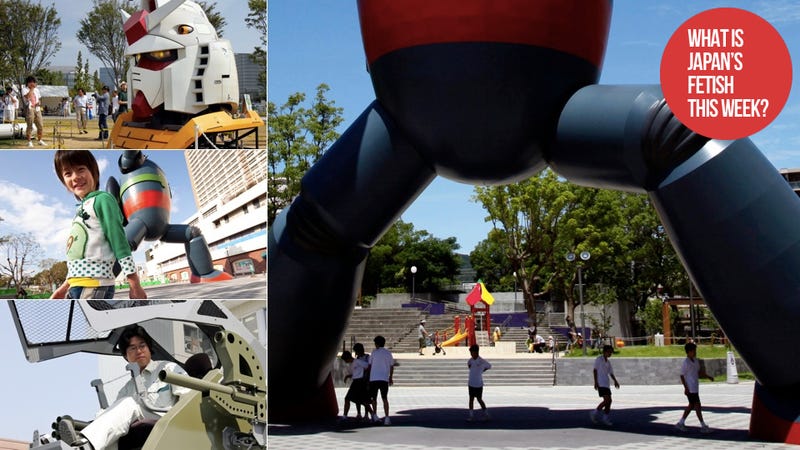 The heat was unbearable. A group of kids scurried to find shade, but they did't find it under trees.
A 59-foot robot statue towered over the people and shops below. Made of steel, it's far larger than the inflatable 26-foot Gigantor erected in Tokyo's Shinjuku earlier this month. That Gigantor, née Tetsujin-28, might be filled with hot air, but its brethren are made of steel. Both types join a laundry list of giant robots that tower over Japan.
Japan is crazy about robots and mecha—the bigger, the better. If there's another thing Japan's gaga for, it's actually building them. And not just to look at, but actual, operational giant mechas—for children, even!
The statues of these robots and mechas are the landmarks that proudly scream, this is what we dreamed, this is what we did, and this is what we can do.
In Japan, it's important to note that the words "robot" and "mecha" are sometimes used interchangeably by fans and creators as well.
MIGHTY ATOM - Astro Boy is a modern retelling of Pinocchio, but it also epitomizes the view of robots that they are good and can make our lives easier. More importantly, the manga and animated TV series defined Japanese anime, and its impact is still felt today.
In English, there's a clear distinction. "In a Western sense at least, robots are normally artificially intelligent machines," doublesix game designer Ollie Barder, currently working on Strike Suit Zero, told me. "Whereas mecha, as a term at least, is broader and normally encompasses vehicles piloted by people." In Japanese, "robot" is often used for both machines that move and also humanoid machines, which is why it's not uncommon to see the word "robot" slapped on mecha toys.
The 1950s saw the rise in popularity of robots in comics, thanks in large part to Astro Boy in 1952. While Astro Boy wasn't a giant robot, 1956's Tetsujin-28 was. The manga was inspired by the U.S. firebombing of Kobe and the notion of top secret super weapons. Tetsujin-28 was a modern take on the Frankenstein monster, with a little boy able to control the enormous robot's every move. It was, in a way, a fantasy version of a real Metal Gear.