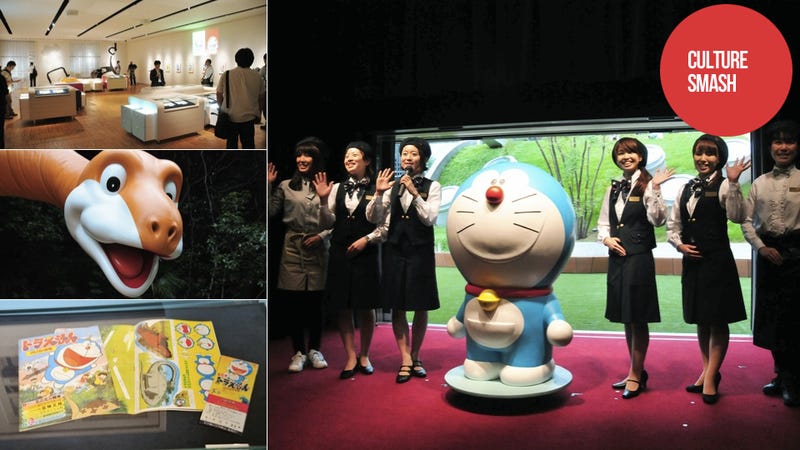 Some people love Mario. Others love Mickey. But I love Doraemon, that blue robotic cat from the future, with a pocket full of gizmos and a fear of mice. And now, the manga artist who created Doraemon, has his own museum.
And it looks amazing.
Fujiko F. Fujio (what a name!) is a nom de plum for Hiroshi Fujimoto. Fujimoto, however, was not the sole creator of Doraemon. His co-creator and long time collaborator Moto Abiko wrote and drew with Fujimoto under the name Fujiko Fujio until the duo broke up in 1987, but continued as friends and both worked under the Fujiko Productions banner until Fujimoto passed away in 1996. The museum honors Fujimoto's work and greatest creation, Doraemon.
(Fujio also created Perman, another iconic character and series in Japan.)
Like Sazae-San, Doraemon is a cultural institution in Japan, with generations now growing up watching the adventures of Nobita and his robot cat from the future—sent from the future because Nobita isn't very smart, is lazy, and needs all the help he can get! That's one of my favorite things about Doraemon is that the characters generally aren't perfect, which makes them very human and appealing. And really, who doesn't want the Dokodemo Door?
Doraemon originally debuted as a manga in 1969, and after an initial, unsuccessful TV anime run, the character finally got a hit show when the anime relaunched in 1979, propelling the character's voice actor, Nobuyo Oyama, towards national fame. She not only resembled the blue cat, she's also a total shark at Arkanoid.