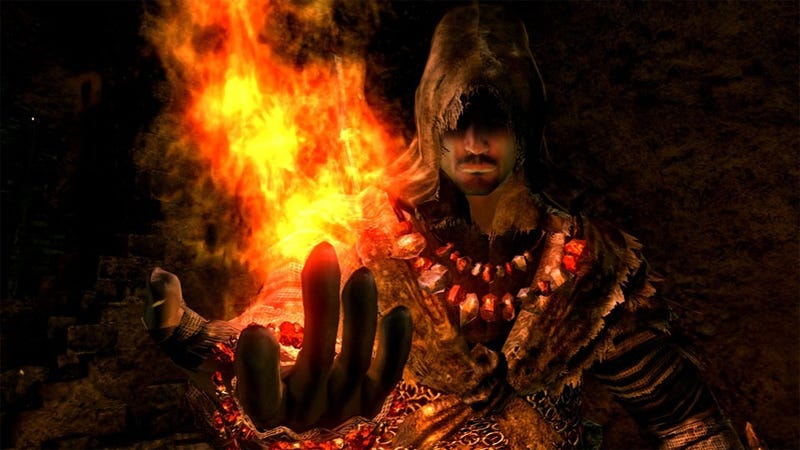 The people showcasing From Software's role-playing game Dark Souls—which you've likely heard is something of a challenge—were prone to frequent deaths during a brand-new demonstration of the game. At least its prison break was a breeze and we learned a few new things about the Demon's Souls spiritual sequel.
Namco Bandai's hands-off Gamescom demo started in a jail cell, one of many in "The Duke's Archives," a towering library that players might see about halfway through the experience that is Dark Souls. Namco folk controlled an ornate fighter who appeared to be either a Knight or Warrior class at some point. In his left hand he held a kite shield, in his right one of two massive swords, with one of those blades a gnarled, still molten mass of metal.
The Chameleon spell—the magic that lets a player transform into a vase, for example, to disguise himself—and a healing item, Divine Blessing, rounded out his visible inventory. (It seems players won't be limited just to healing spells and a refillable flask to make themselves feel better.)
The cell in which the unlucky warrior found himself in was fortified with iron bars overgrown with thick crystal deposits. The warrior's cellmates were emaciated, crystal-skinned ghouls, lowly depraved ones who posed little threat. Outside, a snake soldier—the same breed of monster seen in Sen's Castle during our first eyes-on with Dark Souls—stood guard (fast asleep).