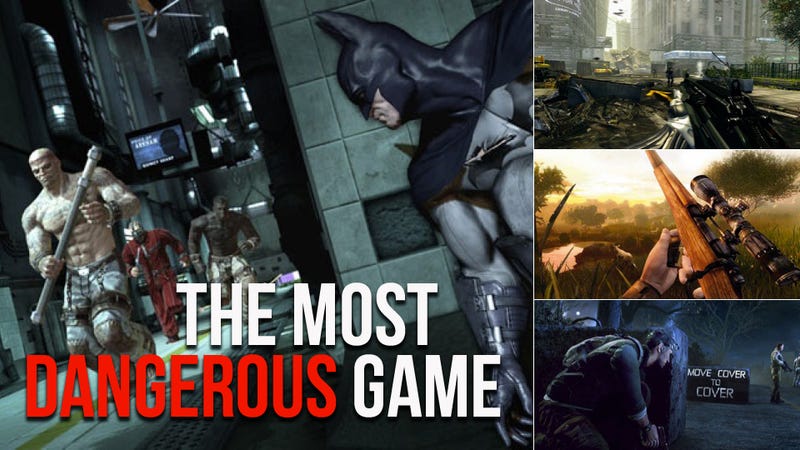 I finally finished Crytek's Crysis 2 last week and surprised myself by immediately firing up a new game and starting it over from the beginning. Sure, Crysis 2 is a slick, well-made first-person shooter, but it's fairly unremarkable on the surface. So why, when I had so many other games I could (or should) be playing, was I nano-suiting up yet another time?
A few minutes into my new game, I hit the right shoulder button to engage my cloaking device and slunk out of an office window and onto a balcony overlooking one of Crysis 2's trademark sun-dappled urban arenas. I surveyed the scene—a group of Cell soldiers were standing across a small park while nearby, another manned the machine gun on the back of an armored car. I slipped, cat-like, into an alleyway, bits of their conversation drifting along as I drew nearer. Carefully, I began to flank them.
And that was when I realized what it is that makes the game so appealing: Crysis 2 evokes the thrill of the hunt.
A friend of mine was talking about Crysis 2 on a podcast earlier this year, and when asked to explain why he enjoyed the game he said, essentially, "It's really fun to hunt people down." After saying that, he paused and kind of laughed, backpedaling a bit. "I realize that sounds a little creepy… but it's true! It's really fun!"
He's right: there's something uniquely satisfying about games that allow me to play the predator. And he's also right that it sounds kind of strange admitting that out loud… I swear I'm not a weirdo! I don't hunt people in my neighborhood after dark or anything! I just like games like Crysis 2, games that engage a natural, animal instinct through a confluence of stealth mechanics, flexible level design and strong enemy AI.
The essence of Batman is that predator in the dark, two white eyes glowing in the shadows, striking fear into the wicked.
Batman: Arkham Asylum had a lot going for it, but my favorite parts of the game were its predatory stealth segments. As the Bat picked off Joker's goons one by one, their increasingly panicked reactions and erratic behavior gave me a sick thrill. This is what people are talking about when they say that game feels like a "BatmanSimulator." Crime-solving, exploration and brawling are all fun, but the essence of Batman is that predator in the dark, two white eyes glowing in the shadows, striking fear into the wicked. Arkham Asylum perfectly captured that feeling.
Predatory games hinge upon the freedom to be spotted and then hide again without resetting everything—call it "dynamic stealth." Early Splinter Cells fall mostly into the "pure stealth" category. Protagonist Sam Fisher must remain unseen for the most part, and so most of the game is spent lurking in corners, waiting for guards to pass by or turn their backs. Splinter Cell: Conviction did a lot to move the gameplay in a more predatory, engaging direction. And while I do love early Splinter Cell games, I had a absolute blast playing and re-playing Conviction, and at this point I think I prefer it.
While doing a second spin through Deus Ex for our letter series on the game, I realized that as much as the game encourages stealth-based, predatory gameplay, it doesn't quite feel right. The moment I get spotted, enemies start running about all willy-nilly, setting off alarms and charging my position. The levels are too narrow to allow for any escape or improvisation, and in most instances, enemy AI doesn't have any layers between "unaware" and "alert." Striking, setting off the alarm, and then sneakily circling back while enemies close in on your last known position is one of the sublime thrills of a predatory game; but AI has to be advanced enough to pull it off.