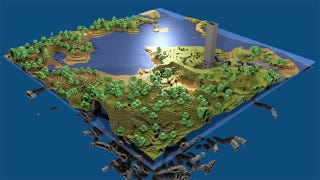 Looking for an excuse to go to Vegas? Why not meet up with your fellow Minecraft fans at the game's forthcoming convention, MineCon? That's the place to be for Minecraft high rollers this fall.
The game's creator, Marcus "Notch" Persson, tells PC Gamer that MineCon will throw down at the Mandalay Bay on November 18 and 19. (I recommend the hotel's Burger Bar, conventioneers!)
Notch says the event is about "celebrating the full release of Minecraft" and that he's "really looking forward to getting up on stage and pushing the button to upload the final build." Which would mean that the official release date for the "final build" is November 18 now, not the week prior as previously announced.