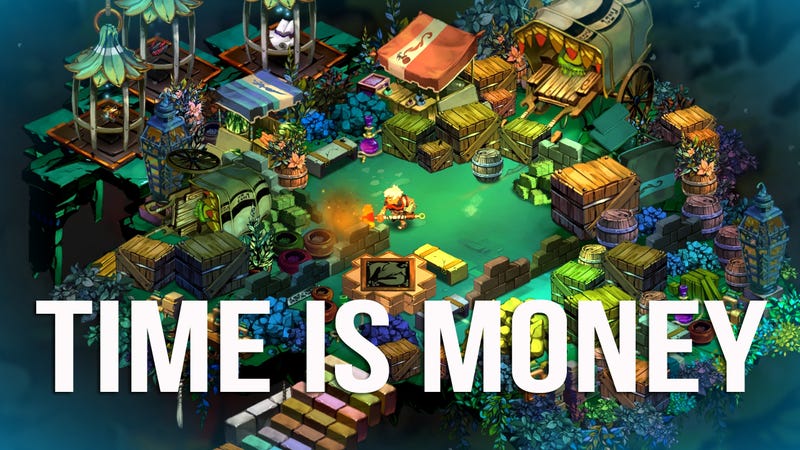 In a very real way, games play us. We may hold the controller, but often it feels as though the games—through their systems, design, and pacing—hold most of the cards. And as game developers cotton to the specific design elements that compel us to play (and keep playing), many of them are reaping financial gains by capitalizing on video games' inherent persuasiveness.
One of the (numerous) things I liked about Supergiant Games's recent action-RPG Bastion was that it didn't waste my time. It managed to channel the vibe of a Diablo-esque dungeon-crawler with none of the grind, and it didn't muck about with complicated inventory or old-school RPG tropes like stat-assignment and skill-trees. Those things can be fine, even enjoyable, in the right game, but I appreciated how Bastion placed as few barriers between me and its core experience as possible.
Contrast that with Facebook and iOS games like CityVille and Tiny Tower. Through cleverly designed, schedule-based systems, those games have successfully hooked a huge number of players into organizing their daily routines around gameplay. Meanwhile, their publishers have reaped massive financial rewards by throwing roadblocks in players' paths and charging money in order to remove them. Many a FarmVille player has put in hour after hour of low-reward grind only to finally throw his hands up and drop $20 to hurry things along.
Blizzard announced that Diablo III will feature an in-game auction house that will allow players to buy high-level items, effectively trading cash to bypass the hours of grinding that it would otherwise take to acquire them. (While, of course, Activision/Blizzard takes a "nominal fixed transaction fee" for each completed sale).