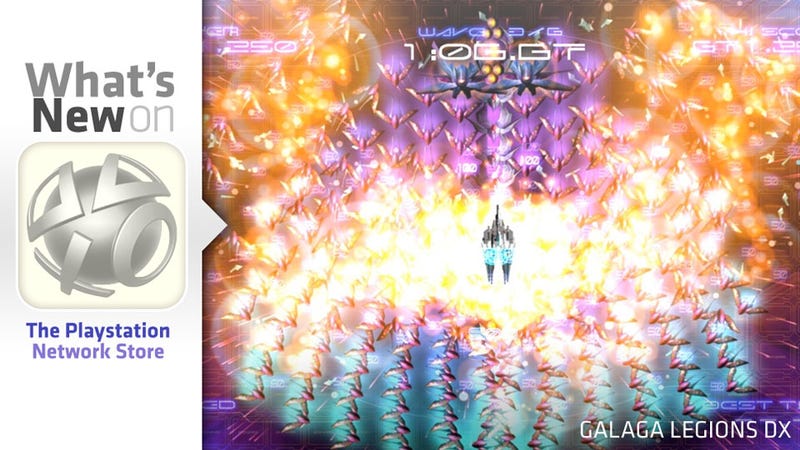 Hey, you like shooting things? Good. Because this week's North American PlayStation Store refresh has, like, at least three different variations on the shooting things genre, including Galaga Legions DX, Warhammer 40,000: Kill Team and Section 8: Prejudice.
If shootin' stuff doesn't agree with you, there's something else you may like: the downloadable release of Dragon Age: Origins, 12 GB download that will put your PS3's hard drive and internet connection through its paces. New downloadable content for LittleBigPlanet 2, Rock Band 3 and Brink might also interest you.
Here's everything that's new for your PlayStation 3 and PSP this week on the PlayStation Store.
Games & Demos for PlayStation 3
Dragon Age: Origins ($29.99)
Galaga Legions DX ($9.99)
Warhammer 40,000: Kill Team ($9.99)
Section 8: Prejudice ($14.99)
Galaga Legions DX demo
Warhammer 40,000: Kill Team demo
Games & Demos for PSP
PSP minis - One Epic Game ($3.99)
PSP minis - Monochrome Racing ($4.99)
Add-ons & Expansions
EA Sports Season Ticket ($24.99)
Brink: Agents of Change (Free)
Dirt 3: Ken Block Special Pack ($1.99)
Dynasty Warriors Gundam 3 – Missions 01 – 06 ($0.99 each)
Dynasty Warriors Gundam 3 – Mobile Suit Pack 1 ($5.99)
Red Faction: Armageddon – Path To War ($6.99)
WWE All-Stars: Southern Charisma Pack ($2.99)
Section 8: Prejudice Blitz Pack ($2.99)
Section 8: Prejudice Overdrive Map Pack ($3.99)
LittleBigPlanet 2 Buzz Lightyear Costume ($1.99)
LittleBigPlanet 2 Toy Story 1 Costume Pack ($5.99)
LittleBigPlanet 2 Hamm Costume ($1.99)
LittleBigPlanet 2 Rex Costume ($1.99)
LittleBigPlanet 2 Toy Story Level Kit (+ Alien Costume) ($5.99)
LittleBigPlanet 2 Slinky Dog Costume ($1.99)
ModNation Racers Oil Stain Mod and Kart ($1.75)
ModNation Racers Oil Stain Mod ($0.99)
Rock Band 3 tracks
"Barracuda" by Heart ($1.99)
"Make Some Noise" by Beastie Boys ($1.99)
"No Sleep Til Brooklyn" by Beastie Boys ($1.99)
"Super Bad, Pts 1 & 2" by James Brown ($1.99)
"Tell Me Something Good" by Rufus ($1.99)
Rock Band Network tracks
"Better Off This Way" by A Day to Remember ($1.99)
"Dreamchaser" by Amberian Dawn ($0.99)
"Hangman" by Drugstore Fanatics ($0.99)
"Pressure Cooker" by Magnus 'SoulEye' Pålsson ($1.99)
"Buried Cold" by Rose of Jericho ($0.99)
Game Videos
Qore Episode 39 – August Edition (Annual Subscribers Only)
Bioshock Infinite – Full E3 2011 Playthrough Trailer
Warhammer 40,000: Kill Team Announce Trailer
Fast Draw Showdown Gunfighters Trailer
Dragon Age 2 – Legacy Trailer
Gatling Gears Teaser Trailer
Harry Potter And The Deathly Hallows – Part 2 Launch Trailer
Captain America: Super Soldier Launch Trailer
GT Academy National Finals in Orlando
Themes, Wallpapers & Avatars
Retro Stars Dynamic Theme ($2.99)
Section 8: Prejudice: Alert And Ready Wallpaper
Section 8: Prejudice: Danger Close Wallpaper
Section 8: Prejudice: Into The Fire Wallpaper
Sales, Price Drops & Bundles
Auditorium HD – Sale (PS3) (now $4.99, original price $9.99)
Caterpillar – Sale (PS3/PSP) (now $2.49, original price $4.99)
Gold Fever – Minis – Sale (PS3/PSP) (now $2.49, original price $4.99)
Panda Craze – Minis – Sale (PS3/PSP) (now 2.49, original price 4.99)
Rocks N' Rockets – Sale (PS3/PSP) (now $2.49, original price $4.99)
Shapo – Sale (PS3/PSP) (now $2.49, original price $4.99)
Resident Evil 5 Versus Mode Dlc – Sale (PS3) (now $2.99, original price $4.99)
Resident Evil 5: Desperate Escape – Sale (PS3) (now $2.99, original price $4.99)
Resident Evil 5: Lost In Nightmares – Sale (PS3) (now $2.99, original price $4.99)
Resident Evil 5: Untold Stories Bundle – Sale (PS3) (now $5.99, original price $12.49)
PlayStation Plus
Crash Commando (free)
PSone Classics - Destruction Derby (free)
Dr. Maybe and the Adventures of Scarygirl (free)
OMG-Z! (free)
One Epic Game Mini– New Release 50% off
Farm Frenzy Mini – 70% off
Dragon Age: Origins full game trial
City Dynamic Theme (free)
Qore, August Episode – Single Episode (free)
---