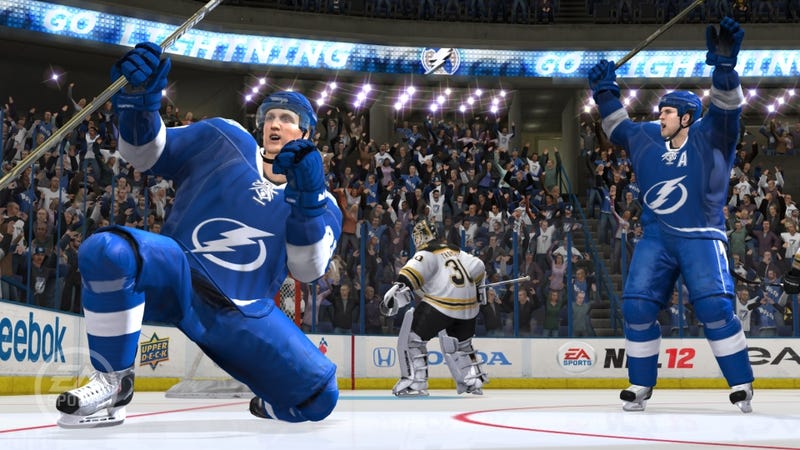 EA Sports will offer an annual subscription for hardcore sports gamers, which includes a three-day, pre-release full-play preview of five of the label's most popular titles, and a 20 percent discount on their paid downloadable content catalog. EA Sports' "Season Ticket" begins Aug. 27 with Madden NFL 12, and it will cost $25.
Covering Madden, NHL and FIFA this year, and Tiger Woods PGA Tour and NCAA Football next year, EA Sports Season Ticket will be available on the Xbox 360 and PlayStation 3 in North America and on the 360 in Europe. Subscribers may download Madden NFL 12 free sometime around midnight Aug. 27 and play it all weekend before its Aug. 30 launch.
The other four titles will follow the same Saturday-Sunday-Monday preview leading up to their traditional release date, at which point gamers will have to have to pick up a physical disc from the usual retail channels. There is no way to pay to unlock the file for full play.
Peter Moore, the president of EA Sports, compared Season Ticket to the kind of premium content subscriptions offered by Major League Baseball, the NHL and other sports leagues, which appeal to diehard fans but not necessarily those of a casual interest. Moore enjoys the Boston Red Sox, and pays for baseball's webcasting service so he can catch all of that team's games from his home on the west coast. As a native of Liverpool, England, he also follows the hometown side from America with a similar subscription.
"This is aimed at a very particular consumer, and it's not for everybody, and it does not affect the normal business we have," Moore told Kotaku. "It's a layer on top of the experience, for a particular consumer."
As if sensing the impending gamer criticism—seen in the reaction to other premium console subscription plans—Moore stressed that EA Sports saw this as "supplemental to the core experience [they offer] but still attractive to certain gamers."
Most importantly, Moore said, "We are not stripping anything out of our games and selling it back to you."
The three-day free-play of Madden, FIFA and others will involve the full code of the physical disc version, digitally delivered over Xbox Live and the PlayStation Network. This digital pre-release game will expire at 6 am U.S. Eastern time on the title's street date, although all associated game saves—rosters, preferences, created players, career and franchise save files—will still be preserved on subscribers' consoles.
"Season Ticket" will also offer members a 20 percent discount on premium downloadable content, which includes the lots of virtual currency for Madden Ultimate Team, FIFA Ultimate Team, and Hockey Ultimate Team, the three titles' card-collecting/multiplayer modes.
Additional perks, including exclusive web content and a badge identifying the user as a Season Ticket holder, will come with the subscription, Moore said.
Season Ticket was a concept hinted at back in April, when Moore delivered a keynote address about digital distribution at a games marketing conference. Though Moore, on Monday, repeatedly cited a "crawl-walk-run" model for his plans for Season Ticket—meaning this is the "crawl" stage with more to come—it arrives sooner but a little under what was rumored. Some had speculated EA Sports might offer an annual membership that included a higher subscription fee but offered free access to more downloadable content. No one saw the preview weekend idea coming.