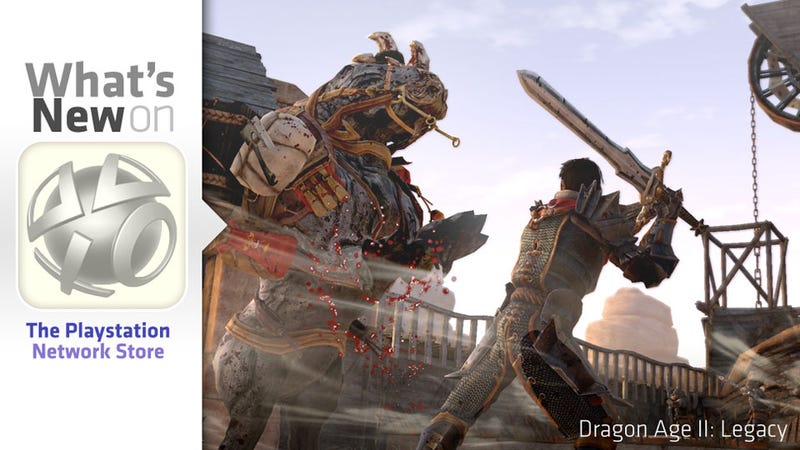 What new digital treasures await North American PlayStation 3 owners? Let's take a look at the latest additions to the PlayStation Store, shall we?
Notable, but not necessarily playable, is the release of Move.me via the PlayStation Store. What does this mysterious $100 app do? According to Sony, it's "a software server application for the PS3 system that utilizes the PlayStation Move motion controller as an input device." Basically, it's a dev platform for Move that will (hopefully) enable some cool new hacks for the PlayStation Move controller.
What else does Sony have for PS3 owners? Lots of interesting expansions and add-ons, including Dragon Age II: Legacy, a new Homefront map pack, a newly downloadable L.A. Noire case, the pre-order exclusive "The Consul's Car" traffic case and plenty more. Just not much for PSP owners.
Games & Demos for PlayStation 3
Deadliest Warrior: Legends ($9.99)
Back to the Future: The Game Episode 5 – OUTATIME (Free)
Golden Axe ($4.99)
Section 8: Prejudice Special Offer Bundle ($14.99)
No More Heroes: Heroes Paradise demo
Deadliest Warrior: Legends demo
Games & Demos for PSP
Nope!
Add-ons & Expansions
Test Yourself Memory ($2.99)
Dragon Age II: Legacy Pack ($9.99)
Homefront Fire Sale Map Pack ($2.99)
Homefront Express 870 Shotgun ($0.99)
LittleBigPlanet 2 MotorStorm Apocalypse Minipack ($2.99)
MotorStorm Apocalypse Ace of Spades Event Pack (Free)
ModNation Racers Junkyard Parts Pack ($4.99)
Dynasty Warriors 7 New Weapon Pack 3 ($0.99)
Dynasty Warriors 7 Original Costume Pack 2 ($4.99)
Dynasty Warriors 7 Original Costume Pack 3 ($4.99)
Dirt 3 Brembo Racing Team Pack ($0.99)
Dirt 3 Mobil 1 Performance Team Pack ($0.99)
Dirt 3 Super Teams Pack ($2.99)
Dirt 3 Team Yokohama Pack ($0.99)
Dirt 3 Texaco Racing Team Pack ($0.99)
Dirt 3 X Games Asia Track Pack ($0.99)
L.A. Noire "The Consul's Car" Traffic Case ($3.99)
Red Faction: Armageddon Recon Pack ($0.99)
Red Faction: Armageddon Commando Pack ($0.99)
PlayStation Home Starter Pack 2 ($4.99)
Rock Band 3 tracks
"Heart Of The Sunrise" by Yes ($1.99)
"I've Seen All Good People" by Yes ($1.99)
"Owner Of A Lonely Heart" by Yes ($1.99)
"South Side Of The Sky" by Yes ($1.99)
"Starship Trooper" by Yes ($1.99)
Yes pack ($8.49) – "Heart Of The Sunrise", "I've Seen All Good People", "Owner Of A Lonely Heart", "South Side Of The Sky" and "Starship Trooper" by Yes
Rock Band Network tracks
"Burning Hearts" by Silverstein ($1.99)
"Curse Of The Werewolf" by Timeless Miracle ($1.99)
"Katsushika" by Rishloo ($0.99)
"Schizophrenia" by Jukebox the Ghost ($1.99)
"Magnolia" by Tears in July ($1.99)
Game Videos
Pulse 7/26 Edition
Duke Nukem Forever – History Of A Legend, Episode 3 Trailer
Sniper Ghost Warrior Trailer
Limbo Trailer
Back To The Future: The Game – Season Recap Trailer
Dungeon Defenders Announcement Trailer
Resistance Greatest Hits Dual Pack Launch Trailer
Section 8: Prejudice Launch Trailer
Themes, Wallpapers & Avatars
Fat Princess Dynamic Theme ($2.99)
Electric Rain Dynamic Theme ($2.99)
Frog Dynamic Theme ($2.99)
Dynamic Horror Skulls ($2.99)
Art In Motion: Kites Dynamic Theme ($2.99)
Corn Love Dynamic Theme ($2.99)
Super Street Fighter IV 8-Bit Avatars ($0.49) (x7)
Super Street Fighter IV Arcade Edition Avatars ($0.49) (x10)
Under Siege – Avatar Pack 01 ($0.99)
Under Siege Avatars ($0.49) (x5)
Dissidia Duodecim Final Fantasy Avatars ($0.48) (x8)
Sales, Price Drops & Bundles
Lost Planet 2 Map Pack #1 – Sale (PS3) (now $1.99, original price $4.99)
Lost Planet 2 Map Pack #2 – Sale (PS3) (now $1.99, original price $4.99)
Saints Row 2: Ultor Exposed DLC – Sale (PS3) (now $4.99, original price $9.99)
Saints Row 2: Corporate Warfare DLC – Sale (PS3) (now $3.49, original price $6.99)
Costume Quest: Grubbins On Ice – Sale (PS3) (now $2.49, original price $4.99)
Mx Vs Atv Reflex Track Pack 1 DLC – Sale (PS3) (now $0.99, original price $1.99)
Mx Vs Atv Reflex Track Pack 2 DLC – Sale (PS3) (now $0.99, original price $1.99)
Red Faction: Battlegrounds – Armageddon Pack – Sale (PS3) (now $1.49, original price $2.99)
Red Faction: Battlegrounds – Origins Pack – Sale (PS3) (now $1.49, original price $2.99)
Red Faction: Guerrilla Demons Of The Badlands Pack – Sale (PS3) (now $4.99, original price $9.99)
Red Faction: Guerrilla Multiplayer Pack – Sale (PS3) (now $3.49, original price $6.99)
Red Faction: Guerrilla Smasher Pack – Sale (PS3) (now $2.49, original price $4.99)
Stacking: The Lost Hobo King – Sale (PS3) (now $2.39, original price $4.99)
UFC Undisputed 2010 TUF Pack – Sale (PS3) (now $0.99, original price $1.99)
WWE Smackdown Vs Raw 2011 Fan Axxess – Sale (PS3) (now $4.99, original price $9.99)
WWE Smackdown Vs Raw 2011: Wwe Discount Pack 1 – Sale (PS3) (now $3.49, original price $6.99)
WWE Smackdown Vs Raw 2011: Wwe Discount Pack 2 – Sale (PS3) (now $1.49, original price $2.99)
You Don't Know Jack Pack 1 – Sale (PS3) (now $2.49, original price $4.99)
You Don't Know Jack Pack 2 – Sale (PS3) (now $2.49, original price $4.99)
You Don't Know Jack Pack 3 – Sale (PS3) (now $2.49, original price $4.99)
You Don't Know Jack Pack 4 – Sale (PS3) (now $2.49, original price $4.99)
Mx Vs Atv Untamed UMD Legacy – Sale (PSP) (now $9.99, original price $19.99)
Mx Vs. Atv Reflex Digital – Sale (PSP) (now $14.99, original price $29.99)
UFC Undisputed 2010 Digital – Sale (PSP) (now $19.99, original price $39.99)
WWE Smackdown Vs Raw 2011 Digital – Sale (PSP) (now $19.99, original price $39.99)
Costume Quest – Sale (PS3) (now $7.49, original price $14.99)
Red Faction: Guerrilla Digital – Sale (PS3) (now $9.99, original price $19.99)
Red Faction: Battlegrounds – Sale (PS3) (now $4.99, original price $9.99)
Stacking – Sale (PS3) (now $7.49, original price $14.99)
Comet Crash – Sale (PS3) (now $2.99, original price $9.99)
Fat Princess Anniversary Bundle ($14.99)
Funky Lab Rat: Challenges Bundle ($2.99)
PlayStation Plus
Funky Lab Rat: Challenge Bundle (free)
Section 8: Prejudice Hunter Armor (free)
SEGA Rally Online Arcade (50% off)
Eat Them (50% off)
Super Street Fighter IV (8-Bit) PSN Avatar Bundle (x35) ($2.99)
---