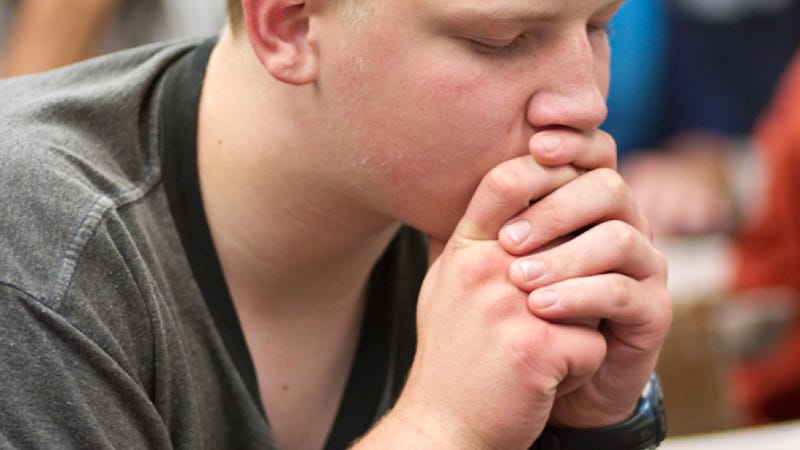 Heading north on Interstate 5 toward Newberg, Ore. last week, I wasn't sure what exactly I'd encounter at Christian Game Developers Conference 2011. Would it have a show floor? Would they be showcasing new games? Would there be a Kinect-enabled Bible study game with 1:1 praying-hands control? Is a third sequel to the Left Behind series this community's Half-Life 2: Episode 3, and would we finally see a trailer for it?
Of course, I saw none of that. I had underestimated what "Christian Game Developers" really means. And what they do.
My problem, appropriately enough, was one of literal interpretation. See, in the conference's title, "Christian" modifies not "Game" but "Game Developers." The distinction is a little more apparent after you talk to enough people and find most of them working on secular games. They're building iPhone and iPad games that don't quote so much as "Jesus wept," or even mention Him at all. They work at BioWare, on Star Wars: The Old Republic. They go to the standard GDC in San Francisco.
So if that's the case, why is this conference, now in its 10th year, even necessary?
"Some people just need to know they're not alone," said Chris Skaggs, of the independent developer Soma Games, and a conference organizer. "You see that in the conversations we have here. You often hear, 'Wow, there really are people who are out there,' and thinking about the same sorts of things."
No one here bats an eye when a discussion of industry trends opens with a prayer to the Lord expressing thanks and asking for guidance. Or when, bemoaning a market oversaturated with first-person shooters and sequels, a speaker invokes Peter leaving the boat to walk on water with Jesus as an example of having faith to try something risky and uproven.
But because such things, if they aren't disruptive to a secular workplace, would at least get you labeled "that guy" in one, there's a pressure for spiritual developers to keep a lid on it, within a games community that's convinced itself that the devout isn't interested in working for it, or doesn't already. And the gamer community has done a great job of making religion of any type feel unwelcome.
"We're not encouraging folks to start Bible study groups at Activision," Skaggs said. "But we do want to encourage the community: Don't walk away [from games development] and don't shut up.'"
The conference, held this year at George Fox University, a Quaker college about an hour or so southwest of Portland, has adapted to the purposes of its attendees year-to-year. (About 85 attended this year; at its height it's drawn 125). Some years networking is the focus. Other years, new products have been shown off. This year was plainly about spiritual and professional development, with keynotes like "Why Are You Here? Deciphering the Code," leading off a day of discussions that also included "Monsters: The Imagination of Faith and Fear," and "Christ: the Cosmic Hero."
There were some games at CGDC 2011, though. They were on a couple of PCs out in a hall, mostly being played by the kids of conference-goers. Adam's Venture was one. Think Uncharted meets Sunday School. It lacked some visual polish most gamers take for granted, but otherwise appeared to be a serviceable adventure tale of the search for the Garden of Eden. A second episode was released this April.
Adam's Venture is one of the better titles in a segment that, even before it overcomes secular mistrust of its agenda, is dogged by poor quality. Refreshingly, this was not an elephant-in-the-room topic at CGDC. Everyone was eager to confront it; if there was a lack of consensus, it was on the potential for overtly religious games to actually be any good as games.
"I really get annoyed when I see preachy games," said Kelly Lawer, 20, of Portland, attending the conference as a gaming enthusiast and an aspiring professional. The mainstream's aversion to an overtly religious game "isn't an issue because of hostility toward my religion," she said. "It's an issue because it's boring."
Lawer decried "Bible-tract gaming" that stereotyped characters (especially atheist antagonists) and all but hand-held players through what few moral choices they really presented. She had an sympathetic ear in David McDonald, pastor of the Westwinds Community Church in Jackson, Mich., who said he begged to get his speaking gig at CGDC 2011.
"If you made the Left Behind game and you're in here," he joked during his talk, "look, I'm called to love you but, epic fail, right? Class A bed-pooing there." There was a lot of chuckling. The Left Behind series is probably Christian gaming's most visible commercial success, but also its most controversial, as a real-time strategy game taken from the series of End Times novels. Though its creators vigorously dispute such portrayals, Left Behind's first game, in 2006 was tagged as violent and religiously intolerant, particularly of Muslims, and depicted as setting "convert or kill" as a goal. Generally poor gameplay reviews have made it into a secular whipping boy for agenda gaming at its worst.