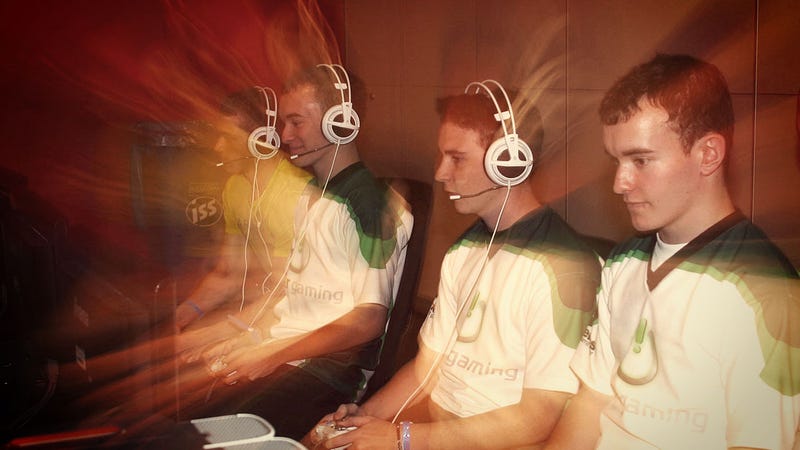 Competitive gaming and eSports are not a new phenomenon.
The act of playing games for sport has been growing in popularity since the mid 90's. From Doom 2 deathmatch, NetQuake and Descent, to Warcraft 2 on Kali, Diablo and Ultima Online PvP—to say nothing of going down to the local arcade to spend your quarters and wait your turn on Street Fighter 2—people have loved playing each other in video games.
Although eSports has only reached new heights largely due to the growing number of competitive players at organized tournaments like Major League Gaming's Pro Circuit and GOMTV Global StarCraft II League, there is a rich, detailed history of events from the past 15 years.
The vibrant, passionate, competitive communities across several games and genres are, arguably, the backbone of some of the largest developers in the world. Blizzard, Bungie, Infinity Ward, id Software, Valve, Capcom, and Epic all have, behind them, strong competitive gaming fanbases. Players have dedicated their entire lives to being the very best, with skill ceilings you couldn't stick ladders to get to. For those who don't like to watch other people play video games, give the best moments in eSports a shot. You may very well start.
Here is a compilation of some of the best competitive matches of all times...
10. Grubby vs Moon – Warcraft 3 - World eSports Games Semifinals – 2006 - Hangzhou, China
Many would consider Jang "Moon" Jae to be the best Warcraft 3 player of all time. He was nicknamed "The Fifth Race" by the community for his innovative and dominant play with Night-Elf. He signed a three-year, $500,000 deal in 2009. Many would also consider Orc hero Manuel "Grubby" Schenkhuizen to be the best western Warcraft 3 player of all time, having won the most titles and recently started his own personal brand, very much in the vein of the most accomplished western professional player of all time, Johnathan "Fatal1ty" Wendel.
By 2006, both players had dominated the Warcraft 3 scene, taking 16 titles combined. Grubby's streak included western events ESWC 2005, DigitalLife 2005 and BlizzCon 2005. Moon had been cleaning up against harder competition winning two seasons of WEG and three seasons of MBCGame. They had also never met each other in an official match before.
The fandom and passion for Warcraft 3 in China is rivaled only by Korea's zeal for Starcraft, leaving no better stage for such a matchup than the World eSports Games Semifinals. Although both players were at the peak of their play, anyone you asked had Moon as the favorite going into the match. At the time of play, Moon had gone an undefeated 28-0 in televised play against Orc players. During the 2006 era of play, Night-Elf's Druid of The Talon/Claw was so difficult for Orc players that Grubby was quoted in a pre-event interview saying "if you want to be good vs NE as an Orc, you need like one month full concentration on this match-up and that means you can't practice anything else, making u worse vs Orc, Human, and Undead." That quote was also in reference to Moon whom he was happy not to face – in the group stages.
SPOILER – THE RESULT

(Game 4) – Commentary by Jaczie Lo
Grubby takes down Moon 3-1 to break the Fifth Race's undefeated streak, and to provide a breakthrough for all of his Orc brethren. In one of the only times I can remember, fans rush the stage—like they swarm the court at the end of college basketball games—and mobbed Grubby at his computer. Grubby's close friend and teammate Yoan "ToD" Merlo won the other semifinal in similar upset fashion against Chinese superstar XiaoFeng "Sky" Li to set up their dream final.
---
9. BoxeR vs YellOw – Starcraft: Brood War – 2004 – EVER OSL Semifinals – Seoul, Korea
The Korean Starcraft fanbase has catapulted professional players at the dawn of the millennium to heights that Western audiences still have yet to see. Two players emerged at the forefront. They were the sport's ambassador: the Emperor, Lim "SlayerS_BoxeR" Yo-Hwan, and his long-time rival, Storm Zerg Hong "YellOw" Jin Ho.
What started in 2001 with a nailbiting 3-2 victory for BoxeR in the Coca-Cola OSL, extended throughout the history of Korean Starcraft, even into YellOw's recent retirement from the game two weeks ago. By 2004 YellOw had a second nickname coined for him: the "King of Silver." He consistently lost to BoxeR or NaDa in tournament finals.
BoxeR and YellOw once again met up in the 2004 OSL Semifinals, BoxeR looking for his third StarLeague title, YellOw just to take out BoxeR. What developed is one of the first and greatest showings of mindgames and swagger that Starcraft can offer, and why BoxeR has been king.
The Match

– Commentary in Korean
SPOILER – THE RESULT
BoxeR bunker-rushes YellOw three times in a row to sweep the series and head to the grand finals. BoxeR had specially prepared three straight bunker rushes that would be extremely hard for a Zerg player. Beyond that, he messed with YellOw's head–-and everyone else's more than ever before. BoxeR went on to lose in a close 3-2 series to teammate Choi "iloveoov" Yeon-Sung in the Finals.
---
8. Fnatic vs AgaiN – Counter-Strike 1.6 – World Cyber Games Finals - 2009 – Chengdu, China
Contrary to what most people would expect, the Counter-Strike 1.6 community had more prize money in 2009 than it ever had in the scene's history, even though the game was a decade old. New strategies were still coming out, old strategies were brought back, and current ones were refined. This kept the game fresh, earning it a claim as the most skill-oriented real-time FPS shooter on the market.
In 2009 Swedish team Fnatic had taken the community by storm, coming through with the most dominant performance in a year with what was considered the most competitive year in the game's history. Led by Patrik 'cArn' Sattermon, MVP Patrik "f0rest" Lindberg and rising star Christopher "GeT_RiGhT" Alesund swept every major event that year including Season 3 of the Intel Extreme Masters (beating AgaiN), ESWC 2009, and World eSports Masters 2009. They earned a then-record breaking $153,122 in prize money.
This led upto the 2009 World Cyber Games, one of the last events of the year, and an event that the Fnatic organization had never won in it's history. Many believed this to be the year for that to happen. Polish team AgaiN, who had the same lineup together for many years, was looking to become the only CS team in history to win two WCG titles, having won the 2006 finals in Italy. AgaiN, led by their superstar Filip 'Neo' Kubski, had been slumping all that year with disappointing results, but were known to step it up in big moments. This was one of them, as China's love for eSports extends past Warcraft 3 to all genres, setting up an extraordinary shot of people watching the final game in the main hall, spilling outside the doors where screaming fans were crushed together. What transpired is one of the most memorable games in CS 1.6 history.
The Match

(Map 1 – de_Nuke) – Commentary by ReDeYe&bsl
(Map 2 – de_Train) – Commentary by ReDeYe&bsl
SPOILER – THE RESULT
Fnatic and AgaiN embark on one of the most legendary Nuke games in history. With Fnatic on matchpoint 15-11 (16 rounds to win) and AgaiN low on money with only enough for two of their players to buy, AgaiN executes some beautiful teamwork to win four rounds in a row and send it into overtime.
Both teams would trade round after round, each coming through in the clutch. They forced the match into four overtimes. With the score 27-26 in favor of AgaiN, fnatic's GeT_RighT had a large health advantage over a 20 health LordB. GeT_RighT would lose his second crucial 1 v 1 moment of the match, giving AgaiN the win. They would go on to win the second map 16-12, and take their second WCG title. Fnatic has never won the World Cyber Games.
---
7. Fatal1ty vs Vo0 – Painkiller - Cyberathlete Professional League World Tour Finals – 2005 – New York City, USA
While the CPL's name was marred in several controversies in its history and is mocked today by all angles of the eSports industry, it was king in 2005. They had just announced the CPL World Tour, a $1,000,000 tournament series with stops in nine countries, and a $500,000 final in New York City on MTV Overdrive inside the Nokia Theater. The games featured on the tour were a duel-deathmatch FPS, which had been a staple at the CPL, along with Counter-Strike 1.6. What many did not see coming was that Painkiller, most likely known for "shooting shuriken's and lightning", was the game the CPL used. They didn't use the world standard that was Quake 3 nor its sidekick Unreal Tournament 2004. One person not complaining was Sander "Vo0" Kaasjager, the Dutch Quake ProMode madman. He excelled at a gameplay form that was different than the vanilla Quake 3 gameplay in a number of areas, including fast weapon-switching and Quakeworld-style air control while strafing. Both such elements were prevalent in Painkiller, but not much so in Quake 3 or UT2004. Quake and UT were the games Johnathan "Fatal1ty" Wendel had won championships in.
Painkiller is a deathmatch game where aggression is rewarded more than ever, a style that perfectly fit Vo0, but not the rather defensive and calculated Fatal1ty. It showed throughout the CPL World Tour season as Vo0 went 5-2 against Fatal1ty, with all championship matches earning him five titles, MVP of the year, and first seed for the finals. While Fatal1ty won two of his own, Vo0 was considered to be the best Painkiller player in the world by a good bit. Both players progressed through the finals in NYC to meet in the winner's bracket final, where Vo0 disposed of Fatal1ty handily 2-0. Fatal1ty would come back through the lower bracket to face-off against Vo0 in the grand finals for a $150,000 first place prize, the largest top-end prize purse in eSports history.
The Match - Commentary by Joe Miller


Cpl WT final Fatal1ty vs Vo0

[Watch it here]
SPOILER – THE RESULT
Fatal1ty makes a remarkable comeback in four straight maps to beat Vo0 4-2. Fatal1ty's playstyle turned extremely defensive, which worked well for him and frustrated Vo0 more than any other plan could. Fatal1ty forced Vo0 into positions that he had not experienced all year, and took him by surprise. While not the flashiest match to watch, the defensive mind-games in such an aggressive game really are fun to observe. Fatal1ty took home a record-breaking $150,000 and cemented his legacy as the most accomplished Western pro gamer of all time.
---
6. Daigo "The Beast" Umehara vs Alex Valle – Street Fighter Alpha 3 International Finals – 1998 – San Francisco
Before the Justin Wong/DaigoUmehara rivalry blossomed to what it is today, the original American Street Fighter superstar Alex Valle had his own rivalry against The Beast. These two men started competing in what was the first-ever meeting between the U.S. and Japan in any Capcom fighting game. Daigo, with his V-Akuma, made his first-ever trip to the States by winning an extremely large Japanese qualifying tournament, while Valle was America's best. Both players saved tactics for the finals, holding back in previous rounds, including special mixups from Valle's V-Ryu that Japan had never seen before. The crowd then was just as hyped as the fighting game community's crowd is now, an ever-passionate community.
Match footage and part six of a six-part documentary.



SPOILER – THE RESULT
Daigo Umehara makes a mark that has been repeated and elevated every year to this very day, defeating Alex Valle in a close 2-1 set in clutch fashion. The beginning of 13-year legacy for the best Street Fighter player ever.
---
5. MC vs PuMa – Starcraft 2 – North American Star League Season 1 Finals - 2011 – Ontario, California
StarCraft 2 (along with Street Fighter IV) has been the biggest boom to eSports in quite some time, possibly ever. The SC2 community has now gathered a very skilled, large and diverse group of professional players. Leagues have organized several million dollars in combined prize money along with decent salaries and the necessary practice conditions for all players worldwide. Games have been extremely entertaining and watched in larger numbers than ever before. But many don't realize that StarCraft 2 is still such a young game, only one year old. The skill cap and metagame still have a ways to go, especially with two more games coming out.
Just this past weekend in the NASL finals, Min Chul 'MC' Jang and Lee "PuMa" Ho Joon showed us the highest amount of skill in StarCraft 2 that we've seen thus far. Most expected MC in the finals. as he has been the most consistent Starcraft 2 player to date (albeit a bit of a few months back). PuMa, a StarCraft 1 A-teamer who recently switched to Starcraft 2, came over to America for the first time on a whim by winning a 1024-man open bracket for the last qualifying spot. This was his first major SC2 singles tournament appearance. The experience and mechanics he brought over as a recent SC1 player propelled him all the way into the finals against MC, a final everyone wanted to see. As the finals were a very American-sports-style Best of Seven, the match that transpired was one of those great sports moments: A Game 7.