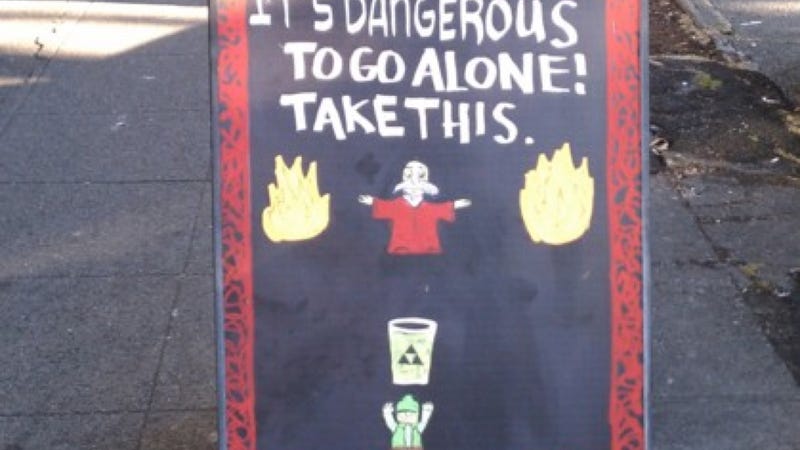 It's Dangerous to Go Alone | The Seattle bar Atlantic Crossing makes a familiar appeal to thirsty patrons. (Photo: So Seattle h/t Holly)
Namco Bandai is suing the parent company of the maker of
The Witcher 2: Assassins of Kings
, the acclaimed PC role-playing game that will make its way to Xbox 360 later this year, over the rights to distribute that version of the game in Europe. Namco is also suing CD Projekt RED for removing DRM from the PC version without permission.
More »
---
In
NCAA Football 12
players have an extraordinary amount of control over the college football landscape. Last year, many diehards and purists pursed their lips and grumbled over a wave of conference realignments that forsake traditions and regional sensibilities for television contracts.
NCAA 12
is their chance to put things right in the world. Their world.
More »
---
As it did a year before, on Bungie Day (July 7), the
Halo
creators made available to the public the Bungie Armor and Nameplate in multiplayer, and prepared to wind down its stewardship of the
Halo
franchise it created
with a sentimental note
that hinted at future projects.
More »
---
The time to collect your PlayStation Network welcome-back freebies has come and gone —
twice, even
— but Sony has extended one component. Registration for identity-theft protection will run through July 31, the company's top spokesman said on PlayStation's official blog.
More »
---
A group of
Call of Duty
glitchers has been called back to Infinity Ward to help the studio test and shore up the game's multiplayer, according to the gang's leader.
More »
---
Still waiting on summer here in Oregon. Yesterday morning, the interior of the house was 60 degrees. That's cold comfort to those in Kansas, Oklahoma and Missouri, I know.—Owen Good
---
We like tips!
Got tips for our editors? Want to show the world your latest creation? Ready to anonymously share an unannounced game? Email us at tips@kotaku.com. Or leave us an anonymous voicemail at (612) 568-2581.
Want a different layout?
Click here for the Speak Up or Tips forums. Want a more "blog-like" look? Click the button up top next to "Top Stories."