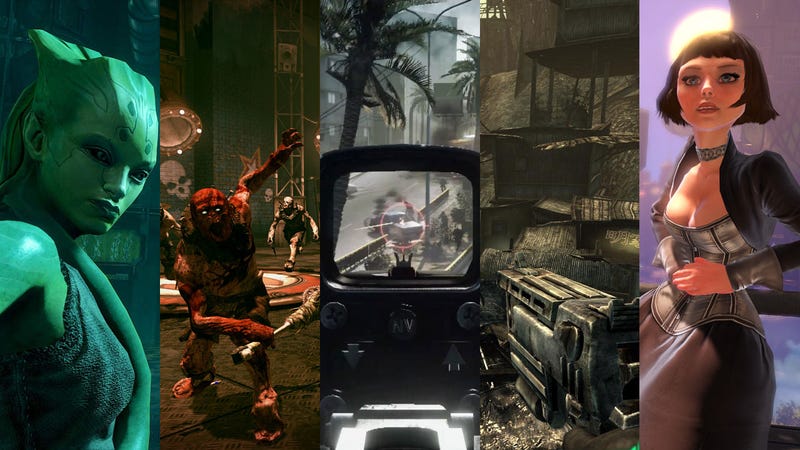 Misinformed people used to complain about the preponderance of video game sequels. They saw video game titles that ended with a number as markers of creative drought. The excellence of Grand Theft Auto III, Super Mario 64, Halo 3, Burnout 3, Call of Duty IV, Mass Effect 2, Assassin's Creed 2 and so many other sequels was a waterfall of inexplicable exceptions.
Perhaps they got it wrong. (They did.)
They missed the point that what games do most is what they often do best. Repetition and iteration breed quality in video games like they do in no other form of entertainment. That is a truth that should compensate for the laughable preponderance of a species of games seemingly more popular than sequels: first-person video games, most of them first-person shooters.
We are drowning in first-person games. In the time you read this sentence, a gaming executive somewhere probably just greenlit a new one.
I was reminded again of the surge of first-person games after the news this week that a new first-person action game called Dishonored would soon be gracing the cover of Game Informer magazine. That magazine has featured five first-person games on the 11 of its covers that showcased new games in 2010 and is up to its third of eight this year. The editors there have a lot of first-person games to choose from, of course. Dishonored is the fourth announced first-person game from publisher Bethesda Softworks out of an announced game line-up of… four games.
When is it not raining first-person games? In the winter and spring of 2011, Sony sold Killzone 3 and EA sold Bulletstorm, then Crysis 2, all marquee first-person shooters. Valve produced a very different kind of first-person game in Portal 2; little indie studio Timegate tried to get people's attention with the first-person shooter Section 8. In June, the first-person BioShock Infinite earned a pile of Best of E3 awards, while the first-person Duke Nukem Forever earned notoriety. The probable best-selling game of 2011 is the first-person shooter Modern Warfare 3 (though there's a cheering section wishing it could be toppled by first-person shooter Battlefield 3).
First-person appears where you don't expect it to appear. I played a Spider-Man game last year that featured first-person boss battles. At E3 I watched Ubisoft show off their first original game for Nintendo's Wii U at E3. It was in the first-person. We ran a story about a new massively multiplayer online game today. The MMO is first-person. I played a new iteration of Galaga yesterday. Guess what? First-person.