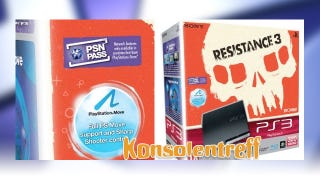 Is Sony following the trail blazed by Electronic Arts and other third-party publishers by limiting who has access to its online multiplayer? That's our best guess for what the new, still-unannounced PSN Pass is, a feature rumored to have made its first appearance on the Resistance 3 PS3 bundle.
The unconfirmed PSN Pass was spotted by members of the German video game forum Konsolentreff, which offers little into the way this new addition functions, other than to warn that "Network features only available in countries that have PlayStation Store."
If I were guessing, though—since Sony Computer Entertainment hasn't yet responded to requests for comment—I'd guess that PSN Pass is a scheme not unlike EA's Online Pass, which grants online access to those who either purchase a new copy of a game or those who pay the extra ten bucks to buy their way into networked features. THQ copied that idea, as did Mortal Kombat publisher Warner Bros.