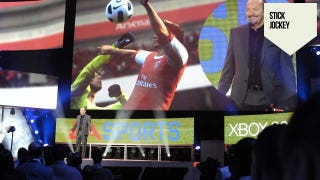 I have this silly daydream of a Kinect-enabled baseball game. In it, you can call for your runner to steal by going through the signals of a third-base coach. Then touch the cap, touch the belt, touch the letters, indicator, sign, corners of the mouth, batter-up fists, clap, let's go.
Or you can, you know, just select the runner and hold right trigger or something.
One year and two E3s in, I'm still not sure that motion control, no matter how much Microsoft and Sony want it pushed, has a strong future in simulation sports gaming. We saw how far the technology is from mainstream enjoyability in the NBA 2K12 demo. I know I've harped on this, but when your celebrity endorser runs directly out of bounds with the control set, his claim of it being "so real, it's scary," falls a little flat.
The problem isn't that using Kinect or PlayStation Move to play a sports video results in something that looks gimmicky or, worse, earns the dreaded "casual" label. The problem is it's a different set of controls to learn. Faced with that, most serious sports gamers will not bother. My top two simulation sports games of the past nine months, NBA 2K11 and Tiger Woods PGA Tour 12, both have PlayStation Move support for the main game. And I could not be less interested in using either one.
If sports video gaming and actual sports have any intersection, its in their fundamentals. From a golf swing to a perfect spiral to a free throw motion, these are acts that need to be unconsciously triggered and easily repeatable. The same holds true for how sports are played in video games.
We're now in the 14th year of gaming with twin analog controllers. Most simulation sports titles have control legacies stretching back to the turn of the century (which is just an awesome way to put it, even if it's only 11 years ago.) For millions of gamers, playing their favorite game effectively comes down to muscle memory.
If you think I'm exaggerating, think back to the vehement community rejection EA Sports encountered when it changed the pre-snap adjustment commands in Madden NFL 11. The designers said they'd optimized the process, even removing one a button press and on paper, yeah, you can't argue with that. But that one extra button press was essential to a self-taught routine, one optimized for speed, to get the defense set up before the other guy snapped the ball.