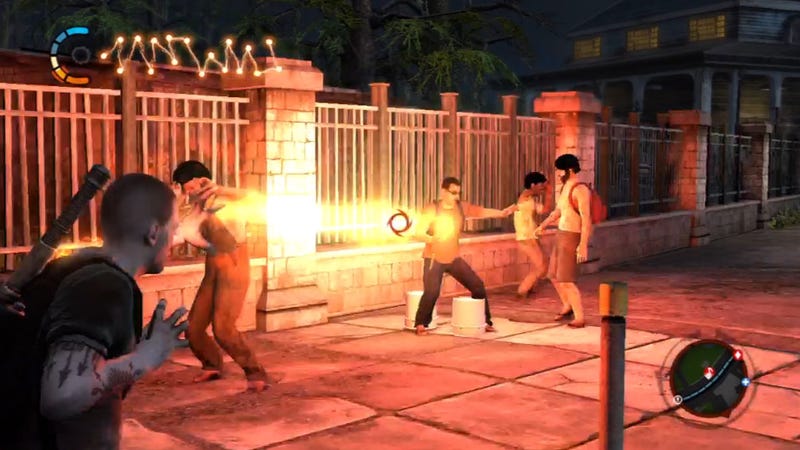 I suck at being the bad guy in video games. I always get all invested, and then I'm hardly ever able to commit to being evil. But for some reason, Infamous 2 has become that game that's made it so much fun for me to be bad–-and I have those annoying guys that drum on pails to thank.
When the game industry heard the complaint that most game stories were two-dimensional, overly linear and generally crummy, they implemented a pretty creative solution: Make games that let players decide which kind of character they want to inhabit, and what that character's story should be.
Most of the time, "player choice" is implemented by giving you the option to be good or evil – and in the past, the lack of nuance has been a source of humor for longtime gamers: Would you like to murder these ailing orphans, or give them your basket of kittens?
Fortunately, developers continue to pioneer ways to let us customize our experiences and see the consequences of our actions, which is lots of fun. Right, player choice and blah blah blah. I write about this stuff, all critically and whatever. And whenever I'm presented with a moral spectrum game, I get tangled up in my own train of thought. I'm busy analyzing my emotional impact, I'm gazing into the eyes of NPCs and trying to feel something.
There is one exception in my past: When I played the first BioShock, I decided to try to test out what the pre-release hype had promised: That the world of Rapture would call me to account for the decisions I made within it. I harvested all the Little Sisters in part because I considered it some kind of critical obligation, to experience and measure for discussion in my writing later.
I ended up being rewarded: I think the narrative works best that way. The infamous plot twist wherein your character gets his comeuppance in the form of a lesson in free will hits harder if you've been ruthless and reckless. But after that point, it's too late to redeem yourself, disappointingly—in my view, one of BioShock's few failings.
That experience reinforced my hesitance to be bad. BioShock's "good ending" is much better than the others, and I had to watch it on YouTube and hear about it from all my friends, bereft of the satisfaction of having gotten it myself. Since then I've struggled tepidly for moral middle ground, paralyzed by indecision. During Fallout 3, I marveled at all of the options I was given, the subtlety of the choices I could make, and yet half the time, in conversation with NPCs, I sat still, controller in hand, staring at a dialogue screen, agonizing over what I should do. What would I do? What would I want my character to do? What should I write about it later? Do normal people overthink things this much? Is this supposed to be fun?
I never played the first Infamous. I can't recall what else was out at the time it launched; I just remember there was too much, as there always seems to be too much. But I know all my friends loved it, so when the second one came around, I decided I should take it for a spin.
And true to thoughtful, considerate form, I immediately wanted to empathize with the people in this sympathetic setting, this ravaged New Marais. Half-flooded and full of destitute, frightened people, it bears more than a passing resemblance to post-Katrina New Orleans, from its lively jazz clubs and outdoor cafes to more sinister omens.The city is hazy with poverty. Anti-government vigilantes and criminals try to exploit the instability. Police are short of resources. The threat is not a natural disaster, but a looming supernatural force called "the Beast."
Yet New Marais' population is still begging for salvation in the face of ruin, while news broadcasts warn of failing tourism and a dearth of governmental support. There's even a bright-lit locale called the "Yes We Can-Can Club", perhaps a subtle reference to the positive national revival President Obama's election campaign promised on the heels of a Katrina-marred Bush era.
These are the first things I noticed about Infamous 2, aside from the cool powers, the fantastic environment design and how good it simply feels to control Cole McGrath. I was inclined to empathize with the poor city. But since Sucker Punch gave me game design that made me feel like I had super-powers at my fingertips, I decided that I was going to cause some mass destruction, dammit. I wanted to be a bad guy, for once.
My goal very quickly foundered. The natural response to the inequities the game presents is to want to help. For example, what to do but try to help people in a suffering region under the martial law of hick purists who'll shoot at anything that looks weird? I felt vindicated when I saved citizens from muggers, I wanted to play "correctly," not make "mistakes," not hurt anyone I didn't have to. Very quickly, I started to become a Good Cole, just by virtue of doing things that came naturally to me. The idea of concussing this wounded little city any more than it'd already been felt repellent.
I felt depressed. Why do so many video games make me uncomfortable with their violent destruction, I wondered? I've never been able to be one of those people who says "it's only a game." And why should I? This is the most powerful medium of the 21st century. It's not a toy. It's long bothered me that people can spend hours upon hours pretending to be soldiers, splattering the native populations and one another all over gameworlds that look just like real-world warzones. That isn't fun to me; games can give us the power to do anything, and yet all we want to do is wreck and kill stuff. "Who cheers for war," I once wondered, in a past Kotaku column.