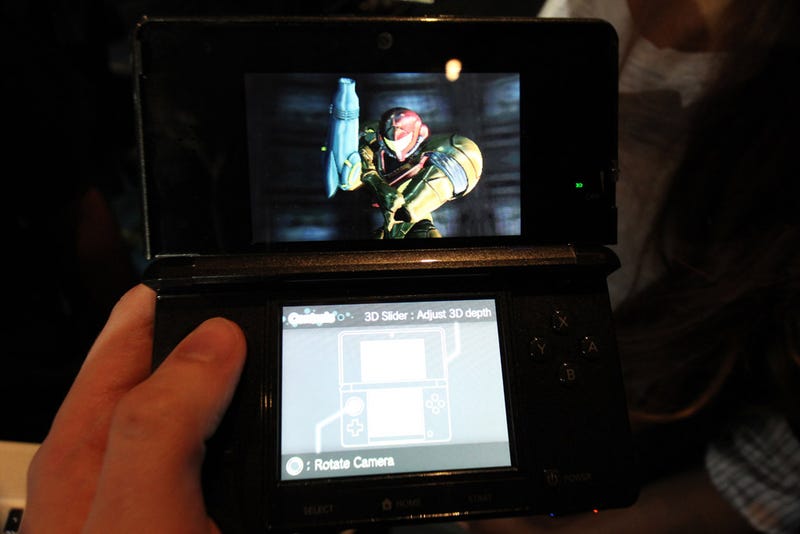 Nintendo has never required users of the Nintendo 3DS to play their games with the system's glasses-free 3D visuals activated. But 3D has been the machine's selling point, one baked into the machine's name.
There are signs, however, that game creators, Nintendo included, are discovering that the 3DS' 3D isn't always a useful technological perk and that it might even be a nuisance that some gamers are avoiding.
At a roundtable of developers at E3 in Los Angeles earlier this month, Nintendo's chief game maker, Shigeru Miyamoto, acknowledged that some gamers have been playing the 3DS with the system's 3D slider pushed to the off position, flattening the games graphics so they appear as they would on an conventional portable gaming screen.
"There are times when people are going to want to play in 2D anyway," Miyamoto said through a translator. "I think it's fair for people to say, 'Oh yeah, for this section of the game, I'm just going to turn the 3D depth slider off.' And, in other parts of the game, they may want to turn it on. I think that's a perfectly acceptable way to play the games."
Miyamoto's comments follow Nintendo president Satoru Iwata's April remarks that there is "no easy road to making people understand the attraction of glassless 3D images." While Iwata's comments seemed to involve the challenge of getting people who haven't seen glasses-free 3D to even imagine the experience and, consequentially, be excited about it, Miyamoto's comments involved the practical experience and struggles of 3DS owners who have actually tried to play games with the handheld's 3D settings activated.