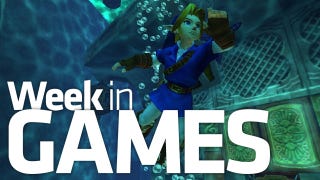 The long-awaited 3D remake of The Legend of Zelda: Ocarina of Time is the highlight of the week, and is in stores as we speak. Other notable names include Dungeon Siege III, Shadows of the Damned, the final chapter of Back to the Future: the Game, and Double Fine's latest Xbox Live title, Trenched.
Today
The Legend of Zelda: Ocarina of Time 3D (3DS)—The game for whom many were waiting before splurging on a 3DS arrives at last. The original, considered by many to be one of the greatest in games history, is re-presented here with updated graphics and 3D effects, as well as the its Master Quest series of dungeons.
Monday
Dual Pack: Syphon Filter Logan's Shadow / Killzone Liberation (PSP)
Tuesday
Dungeon Siege III (PC, PS3, 360)—The third installment of the action RPG series features cooperative multiplayer supporting up to four players.
L.A. Noire: Nicholson Electroplating Disaster (XBLA, PSN)—Det. Phelps is back on the arson desk for the game's third DLC case, and the first all-new one not previously released as a pre-order bonus.