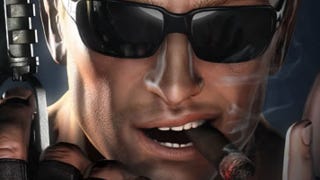 I've finished Duke Nukem Forever. There are a lot of things wrong with it, which I'll get to next week in my review. One thing I want to talk about today, though, has as much to do with the game as it has the game's publishers.
You may have read this elsewhere already, or seen it yourself, but in case you haven't, I'll spell it out now: Duke Nukem Forever is an offensive video game. And not in a good way.
Upon completing the game, I was shocked that I had found myself repeatedly, well, a little shocked. I'm a big fan of "extreme" humour, and can find even the darkest subject matter hilarious if it's spun the right way. And yet here I was, not just failing to laugh at Duke's supposed jokes, but wondering aloud how grown men had seen fit to put them in an expensive piece of consumer media, somehow thinking it was a good idea.
The game jokes about things like rape. And abortion. It thinks tampons are funny. And it does so without any hint of parody, or satire, or political or social statement, the only things that can, if not excuse such distasteful subject matter, then at least provide reasonable grounds for a gag.
People laugh at South Park because, while it can be vile, it knows what needs to underpin the gags to make them work. People can laugh at racial jokes, normally a taboo, from the likes of Richard Pryor or Dave Chapelle for the same reason. Heck, you can even make good Nazi jokes if you're smart enough.
Duke Nukem Forever isn't smart enough. It's not even close.
The first half of the game, from alien rape by penis monsters to awkward blowjobs to robotic stripteases, is blatantly misogynistic. And not in a lovable Ron burgundy, Whale's Vagina kind of way. Nor is it ever remotely approaching something sensual or titillating. It's instead misogynistic in the worst sense of the word: like a drunk uncle, a leering stranger, a repeat sex offender.
What's maybe worse still is that, despite the protestations of blinkered fans and teary-eyed nostalgics, the bigot on display in this game is not the Duke Nukem people claim (or wish) him to be. Not the Duke we remember, and not the one he has ever been. If you need to check this, the original Duke Nukem 3D is now available for $6 from the Apogee store; play it and you'll see the action hero pastiche on display in the 1996 game bears little resemblance to the monotone pervert on show for half the 2011 release.