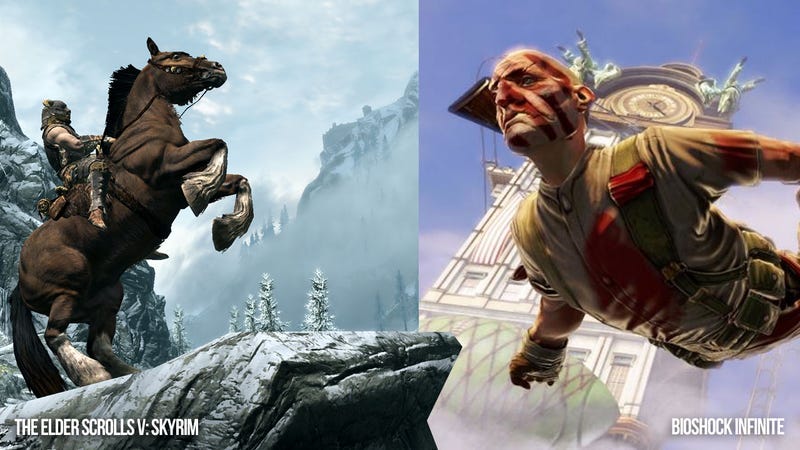 I recently rearranged my life so I could see two important video games: BioShock Infinite and Skyrim. They are two games for which you should rearrange your life—or at least your Thursday in early June.
They were the games people were buzzing about last week's E3, their titles the words people said when I asked them what they'd seen that wowed them.
In a two hour span, in the nick of time before E3 2011 entered the history books, I cajoled and elbowed my way into demonstrations of both of those games. One won me over much faster than the other; one had me worried for a minute that it wasn't as good as advertised. By the end, though, I was amazed by both.
I think of BioShock and Skyrim as more of a tandem than most people do. Circumstances have linked the two despite how distinct they are.
One game puts an armed man on a floating American city of an unreal 1912, zipping over its sidewalks via a weave of suspended roller-coaster-like tracks while the airborne metropolis below is spoiled by the pain and bullets of industrial-age human conflict. This game's hero wants to rescue a woman.
The other is an olden tale of man versus dragons, giants and unkind wretches set upon and under a vast landscape of tundra, mountains and caves. Its hero absorbs the souls of dragons so as to "speak" the spells of their might.
BioShock Infinite is the blue of the sky and the blood-red of revolution. It's a game in the air. Skyrim is the gray of mysterious dungeons and the green of mysterious forests. It's a game in the dirt.
The lead creators of these epics are Ken Levine, leading Irrational Games on BioShock Infinite and Todd Howard, leading Bethesda on The Elder Scrolls V: Skyrim. Two years ago, when I had no idea what their next games were going to be, Levine and Howard agreed to travel to New York from Massachusetts and Maryland, respectively, to chat on a New York Comic-Con panel with me and then-Newsweek reporter N'Gai Croal. They were a proper duo, N'Gai and I thought, two men of creative ambition behind some of the most acclaimed games of this generation, BioShock for Levine and Oblivion and Fallout 3 for Howard.