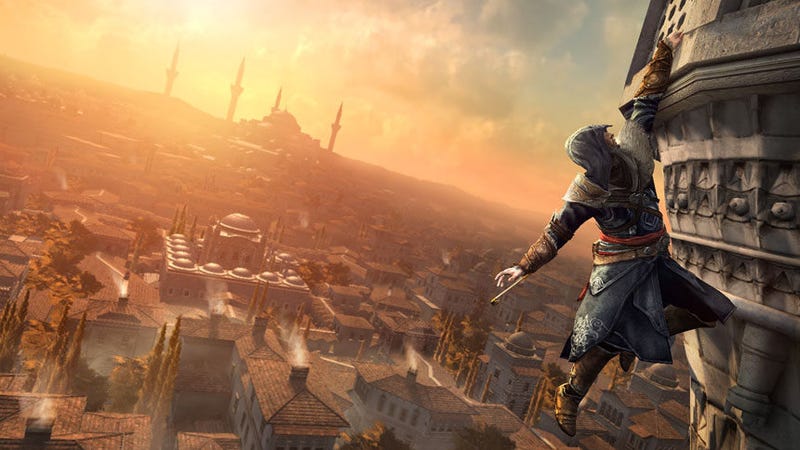 "If you're a fan of Lost, Assassin's Creed Revelations level design director, Falko Poiker, told me last week, "then you know that it really sucks to be left with questions."
After three Assassin's Creed games that have piled on questions.... about the Assassins, about the Templars, about the possible end of the world in 2012, about some sci-fi twists, too...the fourth big game in this series, Revelations is supposed to leave its players more satisfied than an answer-seeking viewer of a Lost season finale.
They don't give the big answers and revelations away at E3, of course, but at last week's big gaming showcase, I did secure some details about the game's single-player campaign.
While early descriptions of Revelations confirmed that the player will take turns controlling Assassin's Creed's first protagonist (Altair), the hero of its last two big games (Ezio), and the series' modern-day lead character (Desmond), the impression I got at E3 is that Revelations is another Ezio adventure.
Poiker, who designed the modern-day Desmond content in last year's Assassin's Creed Brotherhood described Revelations as an older Ezio's early 16th-century quest to find five keys hidden in or near Constantinople by his and Desmond's ancestor, Altair. The keys are needed to open something in Masayaf Castle, the headquarters of the Altair-era Assassin's Guild last seen in the first game.
The impression I got is that we'll play as Altair for a bit after each key is discovered. Since the game is being experienced, like the others, from Desmond's perspective within the Animus Device, it is Desmond, a proxy for the gamer, who is re-living these quests and various adventures. One of the rules of the Animus, though, has been that it allows Desmond to only see the past lives of his ancestors up until the moment when they conceive a child. After that, the Animus would track the life of their progeny. The Revelations designers are skirting this restriction by saying that something screwy with the Animus will allow us to see Altair memories from beyond the point he conceived a child. We'll be seeing—and controlling—Altair later in his life.
While there's no word on how Altair will play, Ezio will be a little different. The Revelations designers have modified Ezio's arsenal, giving him a variety of bombs that he can use to be more aggressive or sneaky and arming him with a "hookblade" that can be used for combat or to zip around cables strung through Constantinople by the local Assassin's Guild. (Read my impressions of the game's E3 demo for more from Poiker about that stuff.)