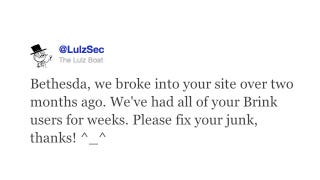 The scurvy dogs aboard the SS Lulz have raided Bethesda Softwork's servers after unsuccessfully trying to extort game info out of them. Ah well. They've also released a bunch of internal data from the US Senate's website for further giggling.
The Bethesda attack centered around FPS title Brink, from which LulzSec plundered over 200,000 user accounts. From there, they went straight at Bethesda:
After mapping their internal network and thoroughly pillaging all of
their servers, we grabbed all their source code and database passwords, which we proceeded to shift silently back to our storage deck.
The server data's out in the open, but Lulz is keeping the Brink user info private for now.
All of this because they wanted more information about Skyrim. I mean, I guess it looks pretty good, but, uh.