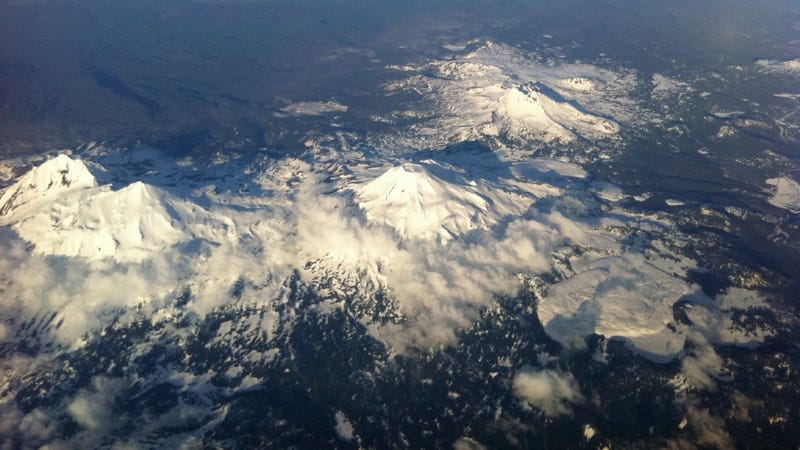 The Northwest U-Turn | My flight home took me to Eugene, Ore. by way of Seattle. Here is a view from my window. I thought that was Mount St. Helens at the middle, but now I am not so sure. (Update: Many readers have said it is in Oregon, and it is the Three Sisters peaks) (Photo: Owen Good)
Some time on Saturday, as I was playing
Duke Nukem Forever
on my Xbox 360, I realized that in all the conversations I've had with people from Gearbox Software—the company that heroically salvaged this game from it's decade-plus sink toward oblivion—no one ever said this game would be wonderful.
More »
---
So, yes, I saw the Phaser. The PlayStation Move attachment showed off to oohs and aahs at Sony's E3 press conference is, indeed, a beautiful thing. More importantly, so is the game that's arriving with it.
More »
---
At E3 this week, the sight I was least prepared for was that of Ray Lewis in full Baltimore Ravens uniform: eye-black, skullcap, gloves, wristbands, everything. This was an appearance for
Madden NFL 12
but to him, it didn't look like it was for show. Lewis looked ready to play right there, ready to go in the two seconds it would have taken to strap on his helmet, clenched by the facemask in his left fist.
More »
---
The E3 news conference demonstration for
Fable: The Journey
, the Kinect-enabled next entry in the role-playing franchise, was objectively speaking a flop. The series' creator himself says so, because
The Journey
left the impression this was a rail-shooter spinoff, and now everyone's in damage control.
More »
---
Fresh from the
vivisection they performed on EA Sports
and Peter Moore (which
Moore himself quoted on our Twitter feed
Thursday), the kids of South Park turned their attention to
L.A. Noire
in Thursday night's episode, in which Stan battles chronic cynicsm—aka "Internet commenter's syndrome."
More »
---
Crecente, Totilo, Joel, Epstein and Drew all took off at 2 p.m. on Friday. Photog Isaac Viel and I joined them at the airport even though our flight wasn't until 5:15. It took longer for us to get from L.A. to Eugene than it did for the others to get to New York. –Owen Good
---
We like tips!
Got tips for our editors? Want to show the world your latest creation? Ready to anonymously share an unannounced game? Email us at tips@kotaku.com. Or leave us an anonymous voicemail at (612) 568-2581.
Want a different layout?
Click here for the Speak Up or Tips forums. Want a more "blog-like" look? Click the button up top next to "Top Stories."