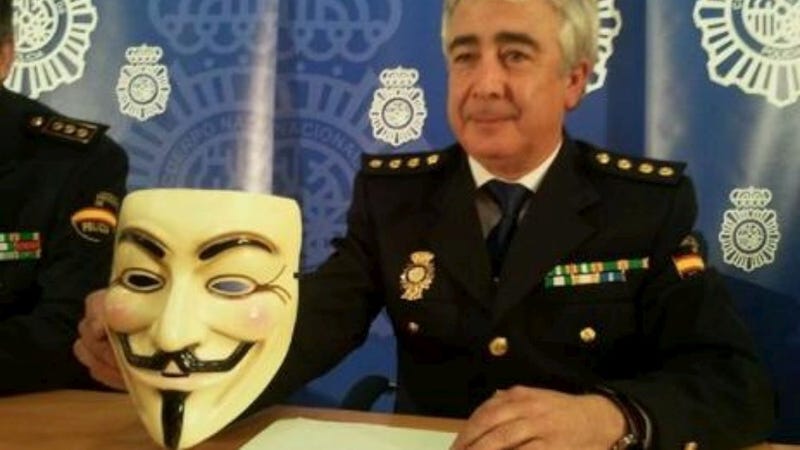 Spanish police this morning say they have arrested three involved in the hacking of Sony's Playstation Network, which lead to Sony shutting down the Playstation 3's network for a month, locking nearly 80 million gamers out of playing online.
All three were freed without bail pending formal charges. The New York Times reports that they are expected to be charged with "forming an illegal association to attack public and corporate Web sites, a charge that faces a potential sentence of up to three years in prison."
"Spanish Police dismantle the #Anonymous hacker group in Spain. They attacked #Playstation Store," they wrote on their official Twitter feed early this morning. "Police arrested 3 #Anonymous leaders in Barcelona, Alicante & Almería. They attacked governments of Egypt, Algeria, Libya, Colombia...
"#Anonymous has thousands of 'zombies' computers infected all over the world."
The New York Times reports that according to police one of the hackers had "harbored a computer server in an apartment in the northern port city of Gijon, from which the group attacked the Web sites of the Sony PlayStation online gaming store."
It is not clear if the three were the only ones suspected of being responsible for the massive hack attack or if this is the beginning of a series of arrests.
Spanish police say the three are also connected to hacking attacks on banks BBVA and Bankia, utility ENEL and the governments of Egypt, Algeria, Libya, Iran, Chile, Colombia and New Zealand.
The investigation by Spanish police in October 2010 after a denial of service attack was carried out on the country's Minister of Culture website.
Anonyops, a site often used for public statements from the group, had no comment posted about the arrest. The official Twitter feed for the group had this to say:
"Dear @policia, Expect us. #Anonymous."
The organized hack attack forced Sony to shut their Playstation Network, Qriocity and Sony Online Entertainment services down and resulted in theft of personal data from millions of users. Some experts have said it is the largest hack attack in history.
The attack spurred the government's of countries around the world to look into the timing of Sony's customer notification. According to Sony's own timeline, released to congress as part of a response to their questions earlier this week, Sony first discovered the breach on April 19, but didn't realize data had been taken from the servers until April 20. The company publicly notified customers of the stolen data on April 26, a day after three private security firms hired by the company confirmed most of what had been stolen.