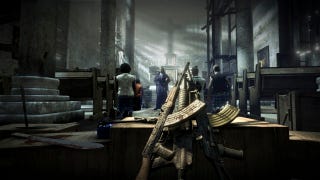 Dead Island had been sending mixed signals—I wasn't able to tell whether this title was meant to be a goofy splatterfest or emotionally devastating. Having now had the chance to experience the game first hand, I think it's trying to be a little of both. Surprisingly, the combination works.
When the announcement trailer for the game launched earlier this year, it created an enormous splash in the gaming scene and beyond. And rightfully so. Its slow-motion, reverse-chronological depiction of a family vacation gone to hell was strangely, intensely moving; set to a melancholy soundtrack, and packing an impressive amount of narrative content into a mere three minutes, it went straight to the gut. Oh, but it also spilled guts. Lot's of them. But I never felt that the zombie gore infringed upon the pathos of the trailer as a whole.
The E3 trailer, which debuted this week, was quite a different animal. Instead of piano and strings, it featured rap. And not just any rap—a ditty titled "Who Do You Voodoo, Bitch." It was sillier than what we had seen before. The first trailer made me teary; this trailer faintly annoyed me. The rapper protagonist dropped a few f-bombs, we saw a lot of fake-looking breasts stuffed into bikini tops, and there were some rather uninspired looking character models and animations. Naturally, I went into my multiplayer demonstration for the title with skepticism: what was Dead Island? Trailer no. 1 or trailer no. 2?