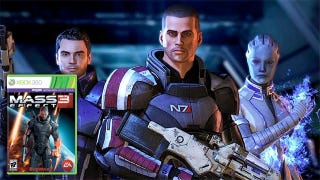 Looks like Commander Shepard may be taking Microsoft's motion controller into battle in Mass Effect 3. How do we know? Because the box art for the Xbox 360 version of the game claims this Mass Effect will be "better" with Kinect.
That heretofore unseen artwork was uploaded to EA's online store earlier today, then swapped out with something less feature-revealing. (Incidentally, the Kinect branded one is still up here when we published.) Kinect support for Mass Effect 3 is not a bullet point we've heard officially from Electronic Arts or BioWare, but it's looking like optional motion or voice control is due to be announced soon, likely at E3 2011.
Mass Effect 3 isn't the only game rumored to feature unexpected Kinect support. Last week, box art for Ubisoft's Ghost Recon: Future Soldier boasted the same "better with Kinect" branding.