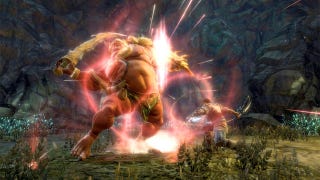 "Combat!" That's the thing that differentiates 38 Studios and Big Huge Games' Kingdoms of Amalur: Reckoning from your typical role-playing game fare, says the game's lead designer. It's the primal stuff extracted from games like God of War, Tekken and Call of Duty and injected into this high fantasy world.
"We've failed if we haven't communicated that," says Big Huge Games senior designer Ken Rolston, who is perhaps better known for his work on The Elder Scrolls III: Morrowind and The Elder Scrolls IV: Oblivion at Bethesda Softworks. Rolston's got pen-and-paper RPG in his blood, having worked on Dungeons & Dragons, Paranoia and Warhammer games.
Rolston told Kotaku at a recent preview that, while he still has a fondness for the "lovable, old-fashionedness" of role-playing games like Baldur's Gate, his company's 2012 game has him just as excited for fighting game-like action, loot drops and the "candy" that Kingdoms of Amalur: Reckoning will hand out to players over dozens of hours.