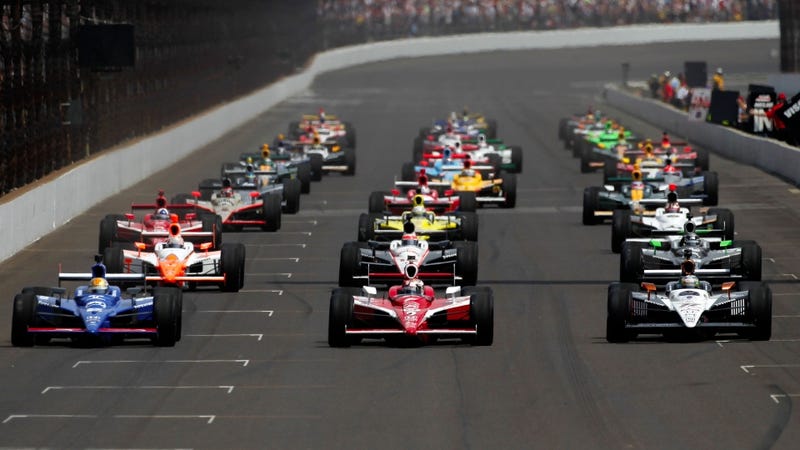 Free the Indianapolis 500 | The U.K.'s Dan Wheldon won on the 100th anniversary of the Indianapolis 500 today, zipping to the checkered flag first when rookie J.R. Hildebrand crashed in the final turn of the final lap. (Photo: Jonathan Ferrey | Getty Images)
In a feature story published today in Sweden, the founders of GRIN lay their studio's precipitous demise at Square Enix's feet, saying the publisher reneged on payments during the development of a Final Fantasy game and saddled them with ridiculous requirements as the project went sour.
More »
---
Airing in Europe and Mexico following the UEFA Champions' League Final, here is the full Gears of War 3 E3 trailer, with special musical guest Black Sabbath performing "War Pigs."
More »
---
With a little layering atop the game's existing Dynasty mode, EA Sports has put in what is essentially a second or third career mode into NCAA Football 12. Coaching Carousel gives you a goal: Rise from your beginnings as an assistant coach or small-time head coach into the leader of a major college power.
More »
---
At a WWE event broadcat Friday on SmackDown, one ringside patron used his 3DS' camera to capture the action, getting the device into the broadcast. He wrote in and sent along the pictures he took.
More »
---
About this time last year, at E3, I was chewing the fat with a 2K Sports representative about NBA 2K11 which already looked to be the monster it would become. Long dominant in the pro basketball genre, the game with Michael Jordan on its cover was going to be 2K's Sunday punch to EA Sports. "That's the idea," the guy told me. "Get an exclusive deal without paying for it."
More »
---
President Obama, on a tour of Europe this week, stopped in Poland today to meet with Prime Minister Donald Tusk. As is customary, Tusk presented Obama with several gifts to commemorate his visit. One of those was the collector's edition of The Witcher 2: Assassins of Kings.
More »
---
That wild ending must have hit Wheldon like it was the worst case of slingshot AI. Like heavyweight boxing and thoroughbred racing, North American open-wheeled racing is in decline, reliant on a single event. Everyone will be talking about this for days, though. It brings to mind what NASCAR's Richard Petty once said: "Give 'em a close finish and they'll be back. Give 'em a wreck at the finish and they'll bring a friend." –Owen Good
---
We like tips!
Got tips for our editors? Want to show the world your latest creation? Ready to anonymously share an unannounced game? Email us at tips@kotaku.com. Or leave us an anonymous voicemail at (612) 568-2581.
Want a different layout?
Click here for the Speak Up or Tips forums. Want a more "blog-like" look? Click the button up top next to "Top Stories."