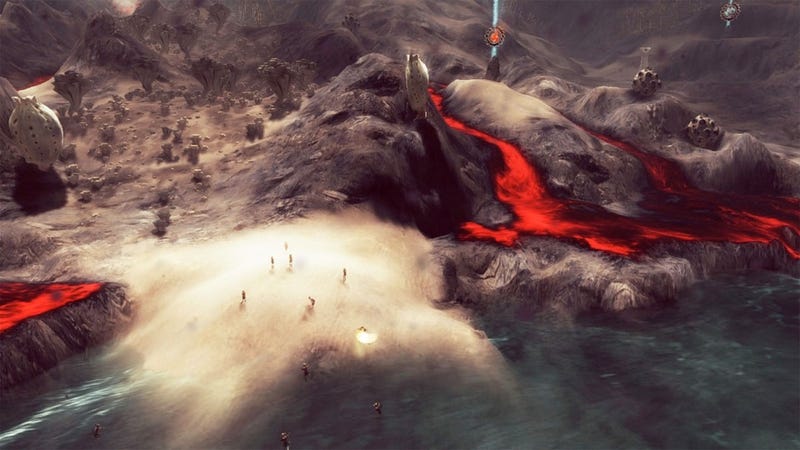 Being a god in Ubisoft's From Dust ain't easy. Though you can manipulate the elements of this world, you'll sometimes feel less like an all-powerful deity than you might a hopeful local politician, a cog in a powerful, sluggish, bureaucratic machine.
You may feel as powerful as a child on a beach, building a sand castle against the unstoppable force of a rising tide. You may feel like a mini-god, struggling against your nemesis, Mother Nature, as you do good things at a micro level. After all, children playing in the sand can't hold swirling balls of lava in their hands or jellify a river, dividing its waters like a virtual Moses. But mini-gods can.
You are not quite a god, but you are god's breath in From Dust, the latest game from French game designer Eric Chahi, perhaps best known for seminal and stylish action adventure Out of this World (née Another World). As god's breath, you look like a serpentine strip of light, skimming along the sand, water and rock of this dynamic world.
From Dust lets you play as a god preserving the lives of small bands of villagers, protecting them from tsunamis and floods. As god's breath, you'll snake your through sandy beaches, into volcanoes—something From Dust designer Eric Chahi has a passion for—and through delicate and powerful rivers, guiding people to totems, to new villages, and eventually to portals to safety.