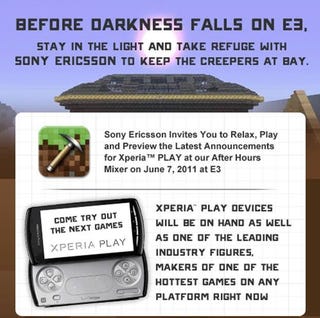 What's that I spy in this email from Sony Ericsson? Could it be Minecraft?
Packed with imagery and references to Minecraft, it seems a safe bet to assume that the Sony Ericsson E3 party for their Xperia Play phone has got to be, at least in part, about the popular indie computer game.
The party promises to give those in attendance access to Xperia Play devices as well as "one of the leading industry figures, makers of one of the hottest games on any platform right now."
The invitation, seen in part above, features Minecraft art and a reference to keeping the creepers at bay.
Back in February, Mojang's head of business development Danial Kaplan said that the developer decided to "do the iOS/Android version of Minecraft inhouse." The port is due out sometime this year.