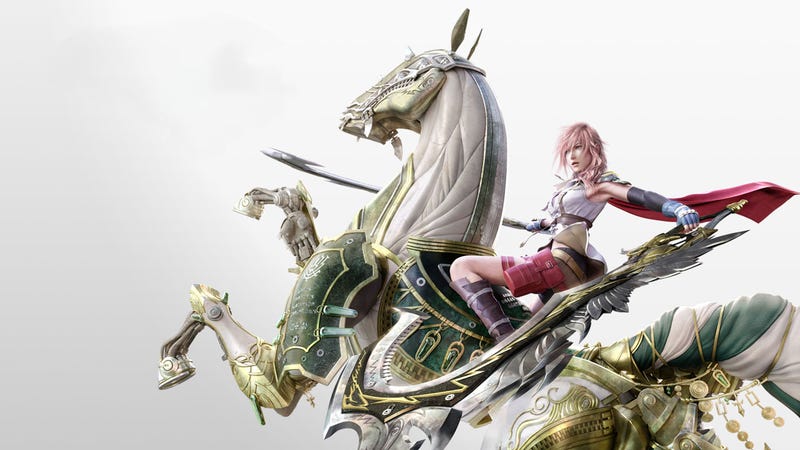 It has come to my attention that we might, within a few short years, find ourselves living on a planet devoid of Square-Enix.
Square-Enix, for those who don't know, is a suit-wearing organization whose members enjoy excellent health benefits in addition to an opportunity to get paid to do things that, as God as their witness, they'd be doing anyway.
Square-Enix is, at the end of the day, a large, shiny office building full of young people with coffee-stained teeth drawing endless pictures of Mickey Mouse and / or wasteland-wandering rhinoceros-sized flame-crackling hovering ghost motorcycles. If I'm not mistaken—and I'm probably not—the average employee of this organization's lunch consists of fried onion ring snacks, and their blood vinegar content is in excess of .02—whatever that means!—what with how much cheap ramen they eat for dinner. Lording over these youngsters are a dozen black-cloaked men—known as "The Thirteen"—whose hoods hide sun-leathered faces (they own yachts) and coal-tar-stained teeth (they eat tar). A few years ago, The Thirteen lost touch with The Five Billion Nine Hundred And Ninety Nine Thousand Nine Hundred and Eighty-Seven, and it seems that now, conveniently, in the wake of a major natural disaster, they're willing to admit that they are in Serious Financial Trouble.
I will tell you what—it's no secret that seven out of ten game pitch documents here in The West are plastered with concept art pulled shamelessly from Deviantart.com, with asterisked captions under every tenth or eleventh image: "This art is copyright Some Talented Individual From The Internet—she or he is not our employee, though this is definitely the sort of thing we would want an artist to do; in fact, we might hire this person." I don't see anything wrong with this method. Well, in Japan, they do: You can't photograph your friend hugging a plastic statue of Colonel Sanders without a representative of Kentucky Fried Chicken theatrically weeping and groping his face at you. It's confusing and weird.
So what I'm driving at is this: they say Japan is on the skids—re: games, anyway—and they say that The West is on the smooths. I tell you what—the smooths are pretty smooth, up in here. And I tell you what again—in Japan, they wouldn't use some kid's art in their pitch document. They'd have to offer the kid a lifetime contract first. So, in this manner, I present you with a hypothesis that Square-Enix has accumulated—through numerous expansions, attempted expansions, and maybe-superfluous conglomerations, so many artists that a nuclear physicist wouldn't feel wrong assuming that they were probably—and definitely—the most important members of the company.
"They" say one bad apple spoils the whole bunch. I say one bad apple usually means you have ten or eleven more. Square-Enix probably has over a hundred bad apples. I realize it sounds like I'm being snippy and mean. I am not: I am being myself: what I'm saying is that they probably have a whole lot of dumb people working, and making decisions, at Square-Enix.
Nearly two months after one of the five largest earthquakes in recorded history, Square-Enix has one of those public meetings where they talk about money like money were a dead monarch. Every word falling out of the mouths of gray-faced businesscodgers has an ethereal implied apology attached. The point of truth is that, between a little while ago and right now, 600 million yen has turned into a ghost. I'll paraphrase the punchline—as if apologies had punchlines: "We lost 600 million yen, because it's tough times, these times, what with that big earthquake and all." 600 million yen is what Square-Enix would pay me to work for them flex-time five days a week for one hundred gosh darn years.
So is it the earthquake's fault that Square-Enix is crumbling? Or is it that they are merely a shadow of their former spastic, gorgeous glory, now less of a knight in shining armor on a white horse than a headless centaur whose hind legs are a little motorcycle wheel? I'd say the earthquake—real and scary and tremendously horrible as it is—is a mere melting rubber puppet of a convenient excuse. The truth is that Square-Enix is deflating because of all the sucking.
(You want to know which Japanese company could blame the earthquake for their financial collapse? That'd be Irem, who decided that they shouldn't release their years-in-development post-earthquake-survival adventure game Zettai Zetsumei Toshi 4 immediately after the earthquake — when it was planned to drop — or ever, as the issue would likely never stop being a serious, sensitive subject. Irem, for the record, has no other large-scale projects in the pipeline, and likely not enough money to start another one, wonderful and talented as they are.)