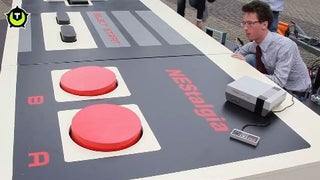 S
Students at a Dutch university on Tuesday unveiled what they claim is the world's largest working Nintendo Entertainment System controller, some 30 times bigger than the console's actual game pad. It's so big, the only way to manipulate the D-pad or buttons is to stand on them
Built by electrical engineering students at TU Delft, the controller is nearly 12 feet by 5 feet (3.6 meters by 1.6 meters). They wheeled it out and assembled it at the Markt in Delft, where it was hooked to a standard NES and connected to a giant display. Kids had fun playing Super Mario Bros. and Tetris during a demonstration Tuesday afternoon.
It's not a confirmed world record; there was no one from Guinness World Records on hand at the demonstration. No word if it will be offered for verification and inclusion in the next edition of the record book.
The video showing the controller in action may be seen at the link.

TU Delft Student Association Builds World's Largest Nintendo Controller [Tweakers, thanks to all who tipped this]