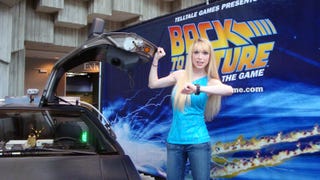 "Disco is NOT dead!" shouted Eddie Izzard as a disco dancer-in-denial in the ridiculous super hero parody, Mystery Men.
Well, we may not be clad in fur, bellbottoms, and platform boots (most of the time), but adventure gamers feel the same way: Adventure gaming is NOT dead!
I'll admit to being biased when it comes to discussing comedic point-and-click adventures-–hell, I'll proclaim it from rooftops! Preferably the rooftop of TellTale Games, for turning me into a kid again with their latest episodic contribution to the genre, Back to the Future.
Kotaku has thoroughly covered the development of this series since its announcement, standing guilty of giving me a bigger geekgasm with each post. However, I will confess that the site's less-than-impressed review of the series, which only took Episode 1 into consideration, was one of the first Kotaku reviews that made me rather crankypants.