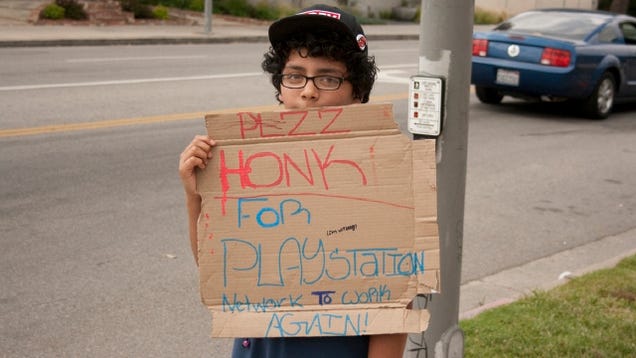 Won't Someone Think of the Children? | A Los Angeles-area teenager takes to the streets for PlayStation Network, in a photo taken "just minutes" before service was brought back online in North America (Photo: Christopher Kirkman | Media Geeks)
Across North America yesterday evening, PlayStation Network returned after a 23-day total blackout. In a process spanning about seven hours, the PlayStation 3's online capabilities gradually returned state-by-state, beginning in New York and ending in Texas. As gamers rushed to message boards to verify the good news in their precincts, the news had the feel of an election night, one whose results were cheered and celebrated by all.
More »
---
Shortly past midnight, U.S. Pacific Time, Sony announced that PlayStation Network service had been restored in Canada, all 50 U.S. states and Puerto Rico. PSN, down for 22 days following a massive cyberattack on April 19, continues to be restored in stages in Europe and in other regions.
More »
---
Alex Howell was the only freshman in the tunnel that Saturday, his chinstrap so tight it fused his jaw shut, 89,000 people packed into to the last row at Auburn's Jordan-Hare Stadium. Earlier in the week the graduate assistant tapped Howell on the shoulder and asked if he'd like to dress for the game against Mississippi State. Howell doesn't remember the exact words he said, other than it was an emphatic affirmative.
More »
---
Bloomberg news reports that the hackers who carried out the attack on PlayStation Network rented a server from Amazon.com to do so, signing up for the service using fake information.
More »
---
You've had your first unofficial look at this year's Call of Duty, now let's see what the official unveiling of Modern Warfare 3 looks like in this brief, but now familiar teaser trailer, "America Under Siege."
More »
---
What am I going to do now that PSN is back online? Probably snag the latest roster update in MLB 11 The Show and head back to Gotham City in D.C. Universe Online What are you guys doing? –Owen Good
---
We like tips!
Got tips for our editors? Want to show the world your latest creation? Ready to anonymously share an unannounced game? Email us at tips@kotaku.com. Or leave us an anonymous voicemail at (612) 568-2581.
Want a different layout?
Click here for the Speak Up or Tips forums. Want a more "blog-like" look? Click the button up top next to "Top Stories."