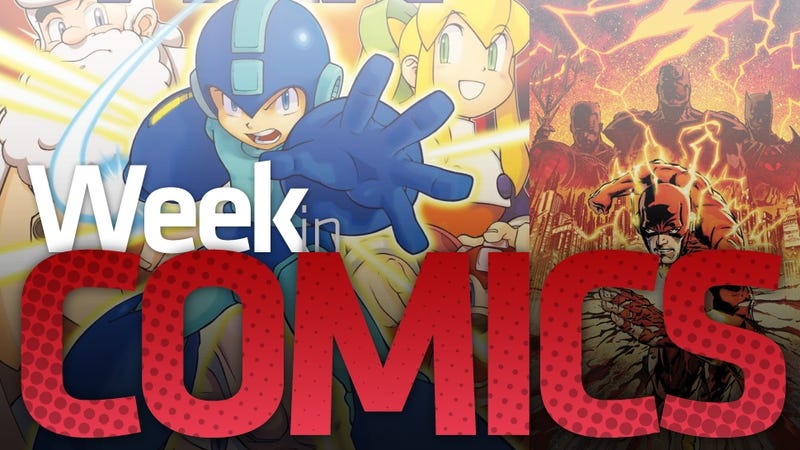 It's Wednesday. There are new comic books in comic shops. Only some of them are worth your time and money. As always, I have some suggestions….
Comics You Should Consider Buying (from comics shops)
Dungeon Monstres Vol 4: Night of the Ladykiller If you're ever going to trust my comics recommendations, trust this one. The Dungeon series, written by French comics greats Joann Sfar and Lewis Trondheim is consistently one of the freshest, most clever and fun fantasy adventures in any medium. Any of the $15 volumes can be read on their own. There isn't a bad one in the bunch. Ostensibly, the stories all involve a dungeon full of monsters and the crazy characters who run the place, but it branches off into all sorts of wild adventures. A single preview page doesn't suffice. Try it.
Flashpoint This is DC's big crossover for the year. Some sort of alternate universe thing, except it's not an alternate universe. I don't know, but the excellent comics writer Brian Azzarello (100 Bullets), who is averse to super-hero crossover, claims this one is a very good idea. He's not writing it, though. He's doing a forthcoming Batman Flashpoint tie-in. This main book is by DC's lead writer, Geoff Johns. Official summary: "Not a dream, not an imaginary story, not an elseworld. This is Flash Fact: When Barry Allen wakes at his desk, he discovers the world has changed. Family is alive, loved ones are strangers, and close friends are different, gone or worse. It's a world on the brink of a cataclysmic war - but where are Earth's Greatest Heroes to stop it? It's a place where America's last hope is Cyborg, who hopes to gather the forces of The Outsider, The Secret 7, S!H!A!Z!A!M!, Citizen Cold and other new and familiar-yet-altered faces! It's a world that could be running out of time, if The Flash can't find the villain who altered the time line! Welcome to Flashpoint!"
Unwritten #35 I just switched to reading this series in trade paperback (that's a compliment!), but if you haven't dabbled yet, give this beginning of a new two-part tale a shot. The series is about Tom Taylor, a guy who discovers that he might be a character from his father's Harry-Potter-esque novels brought to life. When he's not trying to figure out if he's real or trace other fictional invasions into the real world, Taylor can explore other fictions, as he did for the past few, trotting through Moby-Dick and other whale tales. Official summary for this issue: "Back in the real world at last, Tom follows Lizzie and Savoy to New York and to the auction house of Christian Bolinbroke. Lots #1 to 200? The worldly goods of Wilson Taylor. And the only thing more dangerous than the other bidders is the auctioneer himself"
Comics With Video Game Connections (new this week in comics shops)
Batman: Arkham City #1 This comic bridges the events of the Batman: Arkham Asylum and forthcoming Batman: Arkham City video games. Paul Dini wrote the comic. He also writes the games. I wrote about the comic, which is solid and has some hints about where this Bat-saga is going.