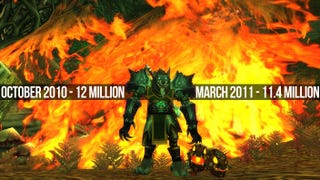 Six months after buzz for the Cataclysm expansion drove World of Warcraft numbers to an all-time high, Blizzard reports the lowest subscription figures for the massively multiplayer game since December of 2008.
During the Activision Blizzard first quarter 2011 financial results conference call today, Blizzard president and co-founder Mike Morhaime told us that as of March of this year, World of Warcraft numbers had "returned to pre-Cataclysm levels in the West," which is a rather nice way of saying dropped considerably.
In October 2010, two months before the release of the Cataclysm expansion pack, Blizzard reported that World of Warcraft had exceeded 12 million subscribers. Today Morhaime gave a figure of 11.4 million. That's 600,000 subscribers gone.