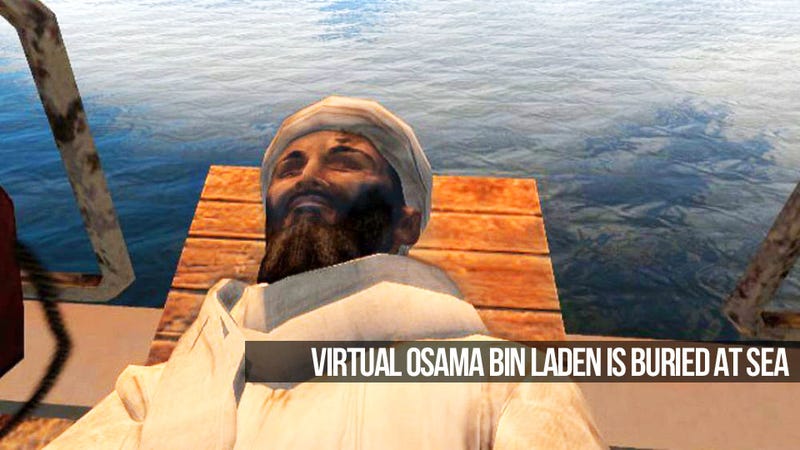 Osama bin Laden hunches quietly in the darkness of an Abbottabad basement, rifle clutched in his hands. He swivels smoothly left. Stops. Then swivels smoothly right. His face is frozen in a thousand mile stare, eyes unblinking.
"We found him."
The game developer sounds relieved. The virtual bin Laden, created over a rush of all-nighters by a team of game developers who specialize in turning current world events and military battles into playable video games, had somehow disappeared from the faithful recreation of his Pakistan compound.
For the past thirty minutes or so the heads of studio Kuma Games sat patiently as a developer raced his Navy SEAL through the compound. He moved the character from under a hovering copter, past the wreckage of a second crashed helicopter to the front door of the compound. He made his way up two floors, checking rooms and balconies. But no bin Laden.
Finally, four days after a team of real Navy SEALs ambushed bin Laden's Pakistan compound and shot him in the head, the developer discovers the recreation swiveling smoothly in the basement, apparently lost in deep, armed thought.
It's Thursday, just one day before Kuma Games is set to release this, their last episode for a game that has recreated the battles, the war in the Middle East and elsewhere over more than ten years and 100 missions.
The studio invited me to come watch them put this last episode together in record breaking time.
Things are fluid. The key points for the game, drawn from the reality of the SEALs mission, are written up on a whiteboard in a mid-town New York office. But they keep changing.
"12:30 a.m. Abbotobad, Pakistan," is written across the top of the board.
"Drops into compound" "
"Shots fired by courier in guest house."
The list goes on, ending with "burial at sea"
There are also questions: "Who was armed?" "Woman as shield?"
As the United States, the world, wrestles with these questions, the people working to turn the entire mission into a playable, educational they say, game need to nail this stuff down.
"There are certain elements we know are fixed," Keith Halper, CEO of Kuma Games, tells me as we stare at the whiteboard. "Like we know where the compound is, and its layout.
"I believe the rest of the story is starting to gel right now."
One set of facts seem to depict a real world mission that was heavily weighted in favor of that Navy SEALS assault team. Will gamers get anything from playing a reenactment that has them going in as one member of a team of 20 against unsuspecting enemies, I ask.
"Every time we do a game there is always going to be a balance between telling a story and creating interesting gameplay," Halper says. "We have to make sure we're factual, but at the same time the gameplay is going to vary a little from what happened.
"If you're going to have a game that feels like a game that has to be part of your plan."
Is this essentially the same as "spiking the football" after a victory?
The plan with this particular mission, is to create a movie, Halper explains, that uses the game to show exactly what the current thinking was on what happened. As of Thursday afternoon, that means only one armed enemy. That means an unarmed bin Laden with a weapon within reaching distance. It means women and children in the compound. The movie, which players won't be able to control, wasn't available to players as of Monday morning, days after the missions release.
The gameplay itself, though, is far afield of reality. Kuma Games has decided that players will take on the roles of both sides, although bin Laden will never be playable by a person. He will always be controlled by the computer, a sort of moving goal.