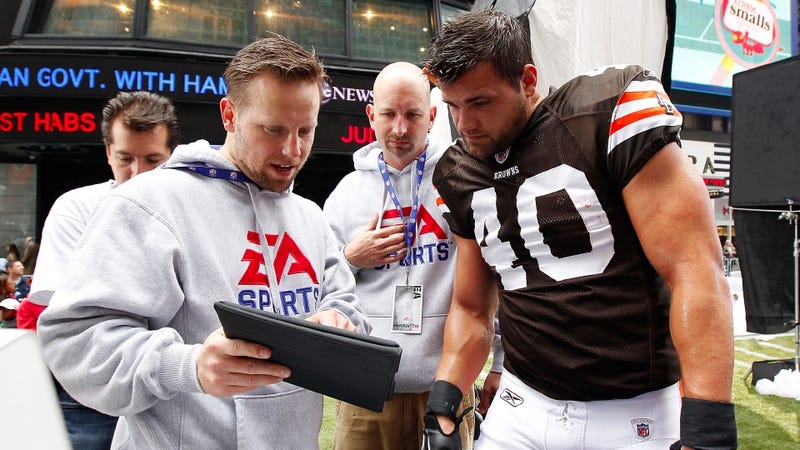 Ready for His Close-Up | Cleveland Browns running back Peyton Hillis, selected after a five-week fan-voted playoff, takes his cover shot for Madden NFL 12 in Times Square on Thursday. (Photo: Mike Stobe/Getty Images)
PlayStation Network, down since April 20, will return this week, said Kazuo Hirai, the second-in-command for Sony Corp., at a news conference today in Tokyo.
More »
---
In this morning's news conference, Sony Computer Entertainment head Kazuo Hirai said the company would consider covering costs associated with reissuing credit cards to PlayStation Network subscribers who feel their accounts have been compromised by the massive data breach of April 20.
More »
---
Someone hacked apart the config file data for
Mortal Kombat
on the PS3 and in addition to discovering about 17 on-disc DLC character skins - and, weirdly, a dummy support-string for Kinect, they found hundreds of wirdy-dirds banned from text communication in MK's online play.
More »
---
A team of MIT researchers is, as we speak, cataloging the species known as the sports gamer. The data is, so far, unsurprising. Many answers to the survey place respondents in supermajorities. "Do you worry," I ask one of the researchers, "that your results are, more or less, 'No shit?'"
More »
---
The transparent naming of
Mega Man X5
's Maverick bosses for the members of Guns N' Roses stood as an unexplained oddity since the game's 2001 release here in North America. (That's Axle the Red. See? Not subtle.) Now we have an explanation, and it's just as strange.
More »
---
Lots of people vow all kinds of extreme things when they're pissed off, especially at giant corporations. Many come back for reasons of convenience or simply calming down. But a survey taken this week, reacting to the PlayStation Network outage, suggests that 21 percent of PS3 owners are considering selling their consoles and fleeing for Xbox Live.
More »
---
Hillis is an unusual selection but one growing on me. The Browns' uniform has a very classic look to it, and so does Hillis. The guy just looks like a football player, and if he's a low-profile subject, that means the cover will be more about the sport than the player. –Owen Good
---
We like tips!
Got tips for our editors? Want to show the world your latest creation? Ready to anonymously share an unannounced game? Email us at tips@kotaku.com. Or leave us an anonymous voicemail at (612) 568-2581.
Want a different layout?
Click here for the Speak Up or Tips forums. Want a more "blog-like" look? Click the button up top next to "Top Stories."