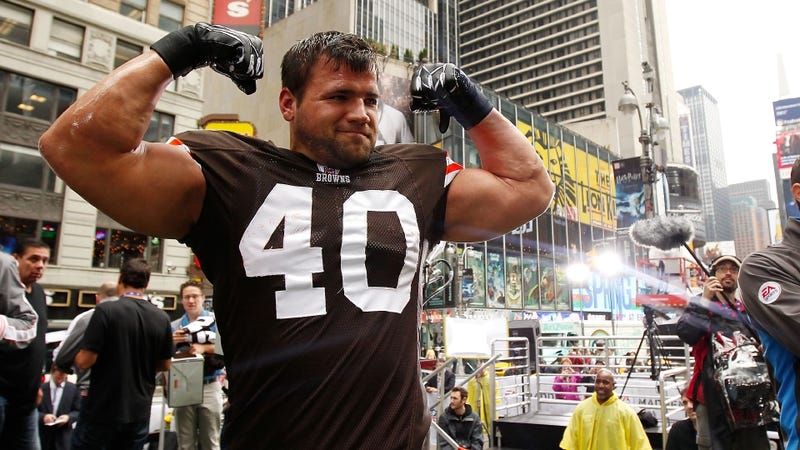 He's the first Madden cover star from a losing team. The first with no Pro Bowl appearances at the time of his selection. He led NFL running backs in one statistical category last year - fumbles.
Peyton Hillis hardly carries the credentials that rate a career honor many great football players will never see. But even if it wasn't foreseen, his selection yesterday was one of the best outcomes EA Sports could have hoped for when it drew up a field of 32 players and put the cover of Madden NFL 12 to a vote of the fans.
"It was not the pairing that I, personally, was predicting," Cam Weber, the EA Sports executive in charge of both football games, told me last week. "I certainly thought it would be a different matchup. But there's a great story here, and with Peyton Hillis, you're talking about a team and a city and a region that really rallied behind a player. I think Hillis will be a great story."
How they ended up with Hillis can be attributed to the timely intersection of several factors.
His team: The Cleveland Browns have an extremely loyal fan base. If any other team promoted the Madden cover vote on their official site, I wasn't aware of it, and certainly none got out the vote like the Browns. Hillis racked up 60 percent of the vote or more in four of his five victories
His final opponent: Michael Vick was, putting it mildly, a controversial choice by EA Sports. His candidacy immediately raised thoughts of his 2007 federal conviction for running a dogfighting ring, and the nearly two years he spent in prison for it.
For some, Vick is unforgivable. But two years since he rejoined the league, Vick's loudest condemnations by now come from people who really aren't football consumers. That was borne out in Vick's own hefty margin of victory up to the final - vote totals of 76, 62 and 61 percent say plenty about Vick's mainstream acceptance among football fans.
But in the end, for Hillis to score his crowning upset, it certainly did not hurt to have Vick as a final opponent. Fans may feel that Vick served his time and paid his debt; they may feel he is rehabilitated. That's not to say they all feel like Vick deserves to be celebrated on the cover of a video game.
In this case, EA Sports' calculated gamble on Vick paid off perfectly. It got the buzz and the heat from having his name in the pool all the way to the end. Nearly 13 million votes were cast in the five-week campaign. And then it avoided the certain storm of protest his selection would have caused.
Superstitious Green Bay fans: The idea there's any causative relationship between appearing on the cover of Madden NFL and then suffering an injury or other career decline has been debunked. It's not a curse, it's regression to the mean, and its more likely to happen to Aaron Rodgers than it is he repeats as a Super Bowl MVP.
If Browns fans flooded the Internet to vote for Hillis, Packer fans quite openly campaigned to vote against Rodgers - far and away the logical choice for this cover - in their semifinal matchup, and spare their franchise player the horrors of the Madden Curse. This isn't unheard of. Charger fans were horrified that LaDanian Tomlinson would be the Madden NFL 08 cover pick and campaigned to have him dropped from consideration. All they did was lobby their guy out of an honor he deserved before a season that didn't end with a Super Bowl title. That'll probably happen with the Packers, too, but suit yourselves.