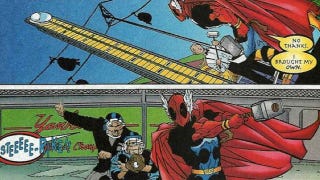 Throughout Thor's illustrious career, his powers have been appropriated by a slew of other comic book heroes. Not all of these heroes carried his official hammer, Mjolnir, but almost all of them dressed as lunatics while imitating the Thunder God.
10.) Thor, Frog of Thunder
In the 1980s, Loki turned Thor into a frog. Even in his warty form, Thor was worthy enough to wield Mjolnir and led the frogs of Central Park against the dastardly rats. Sure, this incarnation may have been Thor proper, but he was an amphibian, adjudicating turf wars between talking animals. Fighting the Midgard Serpent this gig wasn't.
9.) Thunderstrike
During the 1990s, architect Eric Masterson briefly carried the mantle of Thor until Odin gave him his own magic mace, Thunderstrike. Incredibly, Thunderstrike's sartorial choices were even more lamentable than Thor's, what with his sleeveless jacket, ponytail, chain bracelets, and chic lightning bolt earrings.
8.) Captain America
In 1988's The Mighty Thor #390, Cap is dogpiled by baddies. All seems lost, but at the last minute, Captain America lifts Mjolnir and begins busting heads. U-S-A! U-S-A!
7.) Conan the Barbarian
We recently mentioned this in our barbarian roundup, but it's so damn macho it bears repeating. In 1983's What if Thor Battled Conan the Barbarian?, Conan wields Mjolnir after a universe-displaced Thor perishes in battle against Thoth-Amon. As part of my living will, I have stipulated that my loved ones must deliver Conan's touching eulogy at my viking funeral.