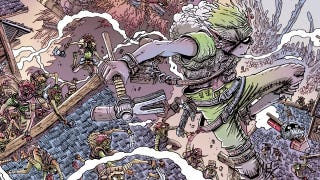 If you like your fantasy comics grimy, roguish, and filled with orcs trying to lop each other's dorks off, you'll love James Stokoe's Orc Stain. And if you don't, you're dunderheadedly depriving yourself of some of comicdom's finest artwork.
Orc Stain, which (in a herculean effort) is written, drawn, and colored by Stokoe, follows the adventures of One-Eye, a clever orc who's far less uncouth than his ill-mannered brethren.
After he castrates a nemesis, an unfortunate chain of events turns One-Eye into a wanted man and thrusts him into orcish imperial intrigue. The book's a thrilling read and was one of our favorite comics of 2010.