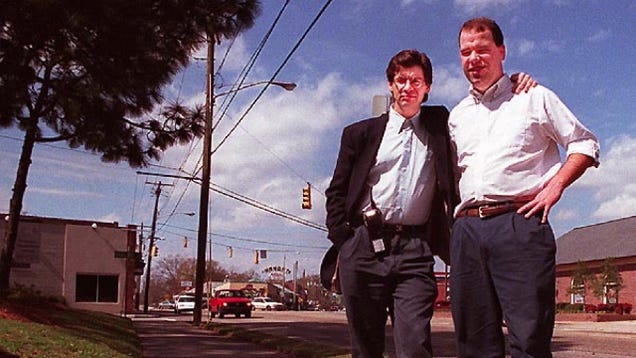 Hay Days | Last Sunday I published a photo by Getty Images photographer Chris Hondros, a friend of mine going back nearly 20 years. Chris, a seasoned combat photojournalist, was killed Wednesday in Libya while documenting rebel fighting there against the Gaddafi regime. This picture is of us on March 3, 1997, on Hay Street, in Chris' hometown of Fayetteville, N.C., where he will be buried this week. (Photo: Chris Hondros)
She said yes. You're dying to know, and Kotaku can confirm that for you now. Even though
her marriage proposal came from a smart-aleck robot
and contained references to herpes and, well, the big A, last night Tora told Ben yes, she will marry him.
More »
---
Those lucky enough to be in on the Gears of War 3 beta today were treated to this, either cute or disturbing depending on your sensibilities. Pick a male character, COG or Locust, and voila, bunny hat.
More »
---
Sony officials continue to work around the clock to bring the downed Playstation Network back online after an "external intrusion" forced the company to take the system down.
More »
---
Golf, in real life, never took root in me. Put a video game controller in my hands, and it is a completely different story.
More »
---
The PlayStation Network has been down for a solid two days. We don't know when it will end. All we know, in its third day, is that Sony says an
"external intrusion" is responsible for the outage
. Should Sony offer anything to their PSN customers? Are they even obligated to?
More »
---
Black Phoenix Alchemy Labs, who brought you "
Chtulhu: The Fragrance,"
has released a line of RPG-themed "perfume oil blends." Yes, if you've always wanted to smell like an elf but never thought to mix parma violet, hawthorne bark, white moss and a bunch of other shit together, they've got you covered.
More »
---
---

Got tips for our editors? Want to show the world your latest creation? Ready to anonymously share an unannounced game? Email us at tips@kotaku.com. Or leave us an anonymous voicemail at the Kotaku hotline: (612) 568-2581.

Click here for the Speak Up or Tips forums. Want a more "blog-like" look? Click the button up top next to "Top Stories."