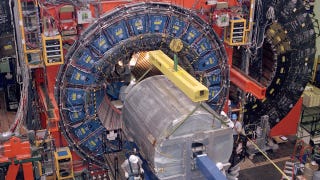 Yesterday, physicists announced the discovery of a strange anomaly, one that cannot easily be explained by our current understanding of particle physics. We examine what's really going on here, and why we all may have missed the really exciting discovery.
What's the background for this result?
The experiment in question involved Fermilab's Tevatron collider together billions of protons and antiprotons. Since these collisions happen at very high velocities, a lot of energy is created in the aftermath of the collision, which in turn can briefly create massive subatomic particles that don't generally exist in the everyday world.
These particles then, in turn, decay into less massive, more stable particles, and these can then be analyzed to figure out what the heavier particles were. In this part of the experiment, the researchers were looking for collisions that created the W boson, a particle about 87 times the mass of a proton, as well as sprays of particles known as jets.
These jets are the result of free quarks being created, which then very quickly combine with other quarks or antiquarks to form composite particles, which spread out in these energetic cones. For more background on quarks and W bosons, you can check out our primer, but that's enough for our purposes here.