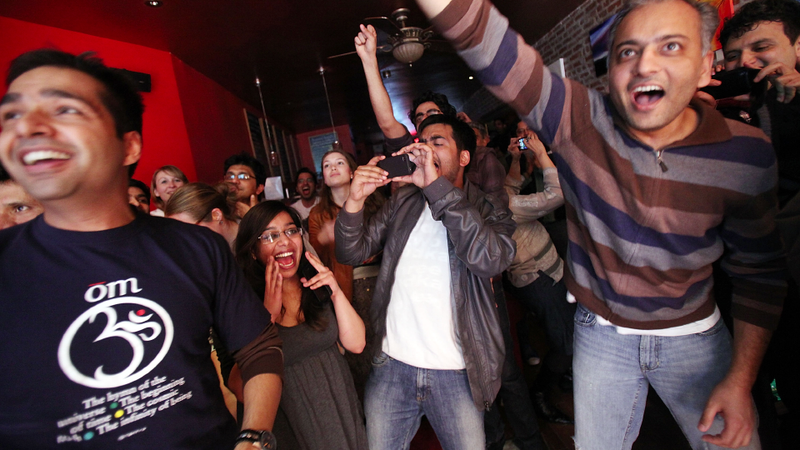 World Champions | All of India is rejoicing, including these expatriates in New York, at the nation's World Cup triumph. Yesterday's victory over Sri Lanka gives Sachin Tendulkar, considered one of the greatest batsmen in the sport's history, a legacy-cementing world championship in his final try. It's the second title for the cricket-mad nation. (Photo: Mario Tama, Getty Images)
The Nintendo 3DS' support of 3D imaging isn't limited just to games. It also has a nifty 3D camera, and of course can display 3D-rendered images with the same effect. One Kotaku reader, who had been fooling around with 3D stereoscopic images of screen shots in the past wondered if they'd also display on the device. They do.
More »
---
Stephen Toulouse, known to many as Stepto, is Microsoft's director of policy and enforcement for Xbox Live. That means he's the guy with the biggest, baddest banhammer on that service, making him a prime target for grudge-nursing hackers. Apparently one just seized control of his personal website, stepto.com.
More »
---
As the driver of the No. 20 GameStop Toyota on NASCAR's Nationwide Series, Joey Logano is the Gamers' Racer. GameStop's logo really is only part of the picture, as current games usually dominate the paint job. When people who can appreciate games see BioShock 2 or Red Dead Redemption go zipping around a tri-oval, it sends a message that's as much an affirmation to them as it is an advertisement to others.
More »
---
There must be some law that only in April can we get news about Bio Force Ape, a never-released NES game whose wild-ass title and premise spawned an awesome hoax in 2005. This, however, is legitimate: the ROM of the game is now available for you to download and play on an emulator.
More »
---
Meme Generator now has
"Optimistic Indie Dev"
on its menu of choices, and it's become quite active. Some suck, but a lot provide biting commentary on independent games development, in a can't-live-with-em-can't-live-without-em way.
More »
---
Nielsen, the folks who measure every single thing that is or could possibly be done with a television set, have released an analysis of gaming habits by ethnicity, finding that African-Americans game the most per day, on average, Asian-Americans the least.
More »
---
As I mentioned earlier
, this weekend marks my third anniversary with Kotaku. I went looking for my first post ever, but it became prohibitively time-consuming. We've been through two major redesigns since it published so it's probably not even formatted in a readable way. One thing about working online, there are no hard copies to instantly serve the nostalgia. Of course, one thing about working in hard-copy news is the fact it's dying. I'm grateful for this opportunity and fortunate to do what I do. Here's to another 52 weekends. –Owen Good
---

Got tips for our editors? Want to show the world your latest creation? Ready to anonymously share an unannounced game? Email us at tips@kotaku.com. Or leave us an anonymous voicemail at the Kotaku(612) 568-2581.

Click here for the Speak Up or Tips forums. Want a more "blog-like" look? Click the button up top next to "Top Stories."

Want even more Kotaku? Want to know which of your friends read us? "Like" us on Facebook and follow us on Twitter.