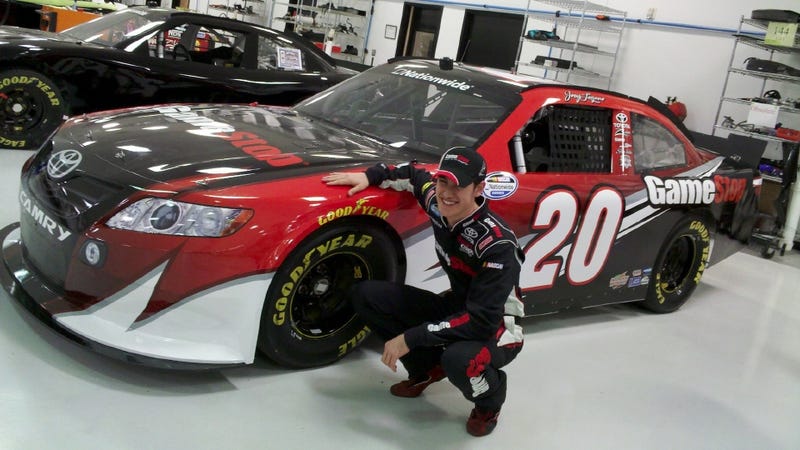 Most single men don't pay much attention to which brand of laundry detergent they buy, beyond whatever's cheapest. But back in North Carolina, I had a friend who was adamant about using Tide and could identify others who used it by their scent.
That's because Tide was the hood sponsor of Ricky Rudd, his favorite NASCAR driver, so for about 10 years that made this guy super fired up about whiter whites and mountain-fresh laundry. Rudd was a Tide racer; Leigh was a Tide guy.

It works in the other direction too. As the driver of the No. 20 GameStop Toyota on NASCAR's Nationwide Series (one rung below the Sprint Cup), Joey Logano is the Gamers' Racer. GameStop's logo really is only part of the picture, as current games usually dominate the paint job (like LEGO Harry Potter does here).
And When people who can appreciate games see BioShock 2 or Red Dead Redemption go zipping around a tri-oval, it sends a message that's as much an affirmation to them as it is an advertisement to others.
"Yeah, I'm cool with the label," Logano, just 20, told me with a chuckle. He didn't mind, either, the semi-ironic fashion in which this site adopted him last year, tracking his finishes in 23 Nationwide races with GameStop as a hood sponsor - and another race on the Sprint Cup series, where Logano's regular ride is with Home Depot. NASCAR is well known for its driver accessibility and fan service, and they may get adopted by people they don't have much in common with by virtue of that sponsorship.