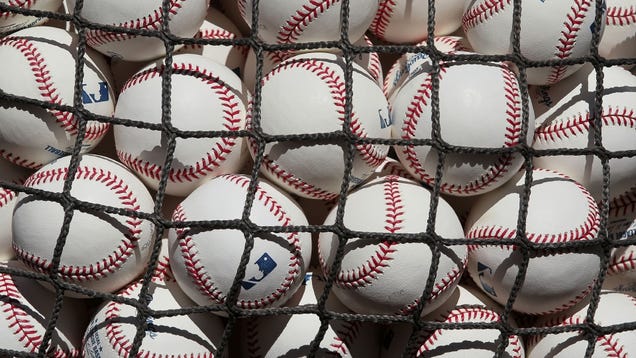 Hope Springs Eternal | It only felt like a holiday. Baseball fans celebrated Opening Day today. Major League Baseball moved up Opening Day to prevent the postseason from creeping into November. The last time MLB opened the season this early with a full slate of games was 1998. (Photo: Getty Images)
Yesterday's rumors have proven true, as Sony Online Entertainment confirms 205 cut positions, the closure of three studio locations, and puts the final bullet in the head of massively multiplayer online spy game The Agency.
More »
---
Wii role-playing game Xenoblade (aka Monado: Beginning of the World) will no longer be a Japan-exclusive, thanks to Nintendo of Europe. The company is bringing the game to the Wii in Europe as Xenoblade Chronicles.
More »
---
Michael Vick, who returned to the NFL in 2009 after a two-year prison sentence for running a dogfighting ring, was the second-biggest winner (by percentage) in the first round of EA Sports' fan-voted playoff for the Madden NFL 12 cover. To no one's surprise, People for the Ethical Treatment of Animals has demanded Vick's removal from the contest. EA Sports president Peter Moore (pictured) says nothing doing.
More »
---
On the fourth day since the official release of the Nintendo 3DS, I finally walked past someone else who had the system and was sharing their data ... at the Sony Style Store, surrounded by PSPs and PS3s.
More »
---
This week's Japanese bestsellers list will likely be reference in a future report, "Why We Should Continue To Re-release Remakes of Final Fantasy Games" at Square Enix. The latest collection, the PSP release of Final Fantasy IV Complete Collection-containing Final Fantasy IV and Final Fantasy IV: The After Years-is this week's top game in Japan.
More »
---
Rockstar Games made one of 20 covers to celebrate the 20th anniversary of Esquire UK's Man At His Best series. They made one hell of an image for it.
More »
---
Last week we lauded BioWare writer David Gaider for his eloquent defense of the inclusion of love interests for players of any sexual orientation in Dragon Age II. Now one gamer has started an internet petition asking that Gaider be fired for his poor portrayal of gay men.
More »
---
By tradition, Cincinnati - home of the first professional baseball team - should always begin the season at home. It isn't always the case. The Reds opened the 1990 and 1966 seasons on the road. My other favorite baseball tradition? The cities of Troy, N.Y. and Worcester, Mass. have a little-known emeritus membership in the National League, as a gesture of thanks when their teams relocated to New York and Philadelphia in 1882. –Owen Good
---

Got tips for our editors? Want to show the world your latest creation? Ready to anonymously share an unannounced game? Email us at tips@kotaku.com. Or leave us an anonymous voicemail at the Kotaku(612) 568-2581.

Click here for the Speak Up or Tips forums. Want a more "blog-like" look? Click the button up top next to "Top Stories."

Want even more Kotaku? Want to know which of your friends read us? "Like" us on Facebook and follow us on Twitter.