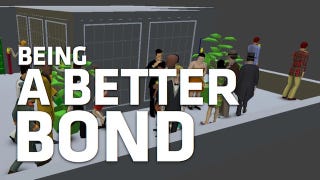 Chris Hecker, who strikes me as not the kind of man who enjoys going to parties, spends a lot of time thinking about parties and the tricky things spies might do at them.
He does this for a video game he is creating. He ponders the number of inconvenient sips it takes to chug a drink, the grace it requires to bug an ambassador and the mathematics that define seduction.
Hecker has been putting himself in the mind of a James Bond for a couple of year, trying to concoct the perfect virtual experience of being a smooth spy at a fancy party while under the pressure of a sniper's scope.
He's not a very Bond kind of guy, though. As I described him a year ago when I first wrote about his very smart unfinished game Spy Party, Hecker, tall, skinny, shirt sleeves rolled up and frequently cackling about some clever idea he's had, comes off less as a debonair agent and more as the kind of mirthful mastermind who might hang you over a shark tank.