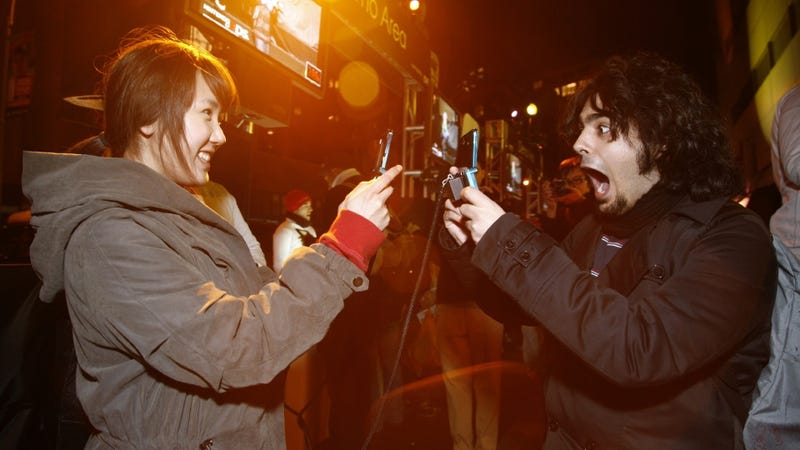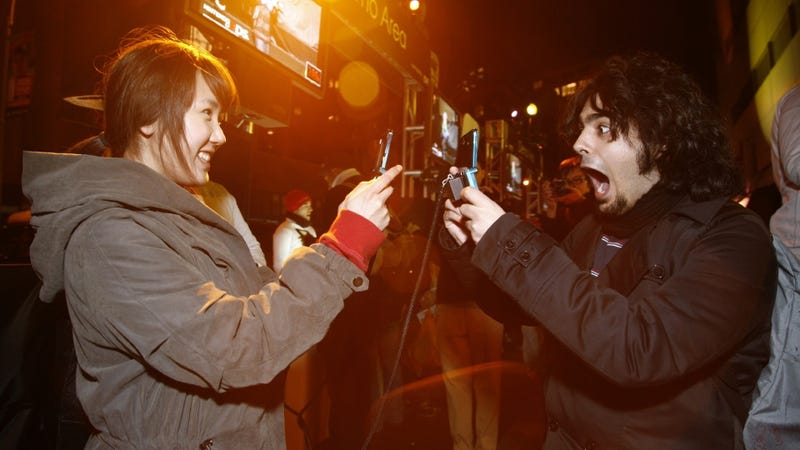 The 3DS Faces the Public | Kelly Yeom of Brooklyn and Roberto Sanna of Manhattan play Face Raiders while waiting for the midnight launch of the Nintendo 3DS at Best Buy's Union Square location in New York.. (Photo: Anders Krusberg for Nintendo of America)
We've played the games. We've shown you its most show-offy feature. We've been surprised how much we liked the 3DS. (And we expected we'd like it a lot.) So should you get your $250 out of your sock on March 27th and buy a Nintendo 3DS? Probably not.
More »
---
We've played 14 of the sixteen available in stores this weekend when the 3DS comes out in North America. Four of them are worth buying. The rest? Read on to see.
More »
---
Madden NFL has had a largely tractionless history on Nintendo's platforms since the Wii supplanted the GameCube. It's a version that simply lacks identity, floating from cartoon characters attempting to play simulation quality football, to real world strategy that has to account for gameplay gimmicks.
Madden NFL Football for the Nintendo 3DS doesn't do much to reboot EA Sports' presence here. It's still spread too thin in its coverage, leaving it exposed as a shallow performer in simulation football, and a stale one in arcade action.
More »
---
Metacritic, whose 90s, 80s, 70s and dreaded 60s are points of pride and shame for the video game industry, will now be applying ratings to individual game developers, giving them a score based on an average of all the games they've worked on.
For an industry obsessed with applying arbitrary numbers to the subjective appraisal of two years worth of work, I foresee nooooooo problems extending this to the balance of someone's career.
More »
---
Most golf fans, if they're lucky, will get to spend four days in early April at the venerated Augusta National Golf Course, scene of The Masters Tournament. Shannon Yates was on the course, sunup to sundown, for 10 straight library-quiet days, coming to understand it in ways even a professional golfer never will.
More »
---
With the fifth generation of Pokémon monsters introduced (in North America) earlier this month, the bestiary is up to nearly 650. That's a lot of Pokémon, and it figures not every one of them is recognized as much as, say, Charmander, Snivy, Pikachu and, yes, Mudkip.
A series of five surveys, four with extremely large sample sizes - more than one million have taken the Generation I recognition quiz on Sporcle, have effectively pegged the least recognizable Pokémon.
More »
---
Believe it or not, I had neither played the Nintendo 3DS nor seen anything on its 3D display before today. I picked mine up at noon at the GameStop in Springfield's Gateway Mall. Stood in front of a couple who was buying theirs; hubby wore a hoodie with a Zelda triforce logo. They won't fight over the device, he said. They plan to buy a second as soon as bundle plans for Ocarina of Time are known. –Owen Good
---

Got tips for our editors? Want to show the world your latest creation? Ready to anonymously share an unannounced game? Email us at tips@kotaku.com. Or leave us an anonymous voicemail at the Kotaku(612) 568-2581.

Click here for the Speak Up or Tips forums. Want a more "blog-like" look? Click the button up top next to "Top Stories."