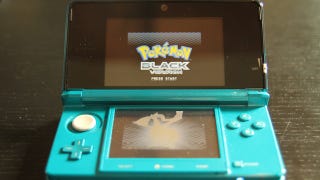 With the launch of Nintendo's 3DS fast approaching, there's been some concern that DS games may not play well on the 3DS. The 3DS can play them, but people have been buzzing about extended load-times and diminished graphics for DS games on Nintendo's new system.
We tested several games on the 3DS, DSi and DS Lite. What's the deal? Do DS games run shoddily on the 3DS, or are the rumors so much bunk? The short answer is that these games run pretty well on the 3DS, with minimal problems, but there are some hitches... and some solutions.
Introducing The Black Screen of....Dread?
Take a look. Notice anything? Yeah, it's just a black screen — a screen you'll be eying for
anywhere from five to eight seconds every time you boot-up a DS game from the 3DS menu.
We're not sure why the black screen appears. It could be because the 3DS needs to adjust its resolution to accommodate the display-settings of standard DS titles. Whatever the reason, this appears to be the extended load-time people have been grumbling about.
However, don't throw down your cartridges in disgust just yet! While it might take longer to boot your DS games on the front end, the games we tested appeared to run just fine once we made it past the Black Screen of Dread.