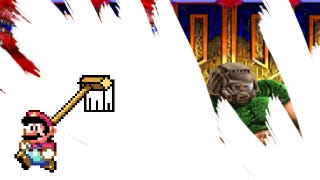 What are the 10 best video games ever made? We'll never know, but damn it, we can try to find out. Our favored method for this is Canon Fodder, a game concocted by myself and video game consultant N'Gai Croal.
All we do is take a list of the 10 best games and put it in front of game developers. We each let them make one move. Then we present them in front of a live audience, a live audience that cheers and boos a lot.
We did our most recent "season" of Canon Fodder at PAX East in Boston. This time, we shot it on video. Read the results. Watch them. Find out why Doom is no longer at the top of the list, and how in the world Dune II got in there.
This was our starter list, pulled from the top 10 best-reviewed games on GameRankings.com in early 2010.
Canon Fodder Starter List
1. The Legend of Zelda: Ocarina of Time
2. Super Mario Galaxy
3. Grand Theft Auto IV
4. Super Mario World
5. Metroid Prime
6. SoulCalibur
7. The Orange Box
8. Uncharted 2: Among Thieves
9. Super Metroid
10. Metal Gear Solid (Game Boy Color)


At PAX East 2010, 13 game developers each made a single change to that list.